Hello! I am getting ready (and nervous) for the Hood to Coast Relay! Today is all about packing, which I think I have figured out from doing two relays before this one.
I am not sure how much I'll be able to post over the weekend, so follow me on instagram to stay updated!
Running Gear Must Haves
Running. Despite being somewhat simple (ummm just go run), running can be super expensive! I am not big on fancy gadgets or running apps and consider my running must haves pretty simple. These are the 8 items I use all the time when I run (not specifically for races).
The list of items below are things I have used for years at this point and I still love them and need 'em! I'm not saying you need these things to run, but at the bare minimum this is the running gear I use about 5 days a week.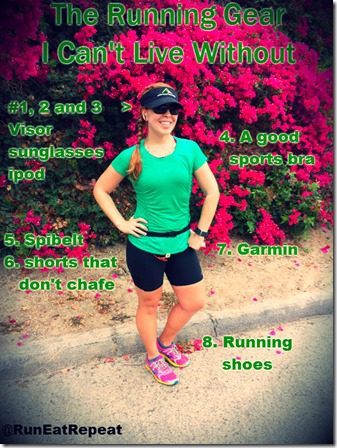 1. ProCompression visor. I've always always been a 'visor girl'. I actually used to wear visors at cheerleading camp every summer throughout high school – it's just my thing.
2. Sunglasses. I rotate about 3 different pairs, but they are all made for sport. I actually just got a new pair that I'll be reviewing soon! (I'd name it here but I left them in the car…)
3. Ipod. I have a tragic ipod from 2009 or something, but it works.
4. Sportsbra. Refer to my Sportsbra post for suggestions and tons of great comments for the bigger boobed girls.
5. Spibelt. I bought my first Spibelt at a race expo years and years ago. Since then I've used different brands and types. They all work the same. I have the water resistant one.
6. Running shorts. I used to swear by the Moving Comfort running shorts, but they changed the design a little bit. I still love them, but am looking for another option. So far the Mizuno Running Short Tights are working for me. They have a 4" inseam.
7. Garmin 410. I used to be in love with my 305 until it broke and I was forced to get a new one. This model works for me. If you want a review of GPS / Running watches check out DC Rainmaker.
8. Running shoes. Go to a running shoe store and get fitted and talk to a pro about what shoe is right for you. I found my match in Mizuno Hitogamis.
Question: What is on your running or gym 'MUST HAVE OR I CANNOT WORKOUT' list?