You may have heard that there is a plus size model on the cover of Women's Running. Or you may have seen the article in Runner's World about Fat Girl Running. I was super happy to see both of these, but at first I didn't want to write about them on the blog. I want to pretend like it isn't a big deal, like it isn't an accomplishment for fat / overweight / chubby / plus-size / whatever you want to call it runners to  be acknowledged in such big publications.
Part of me thought, "YES! Love it! Rock it girls!!" and another part thought, "Finally. Um hello the majority of Americans are considered overweight why is this even a big deal."
So the reason I didn't want to write about it was because I want this to be the norm. I want magazine to show people of all sizes and colors and shapes and…. you get it.
But I decided to talk about it because:
A.) I really want to support these publications in hopes that they start a trend.
B.) I want to pass on the message to you in case these are people that may inspire you.
C.) I relate to some of the things in the "Fat Girl Running" article.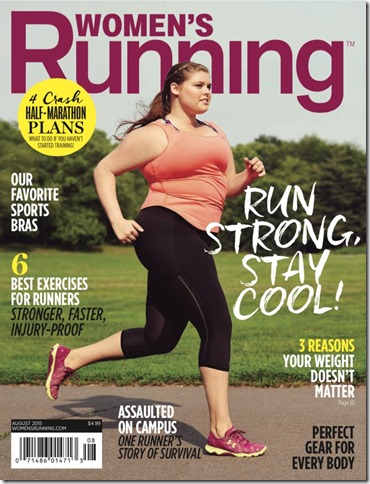 The August issue of Women's Running features Erica Schenk. Schenk has been running for 10 years. She also happens to be a plus sized model.
You can read a Q&A with Schenk here.
She's super gorgeous and I might have a girl crush on her after doing some research and finding other pictures of her modeling.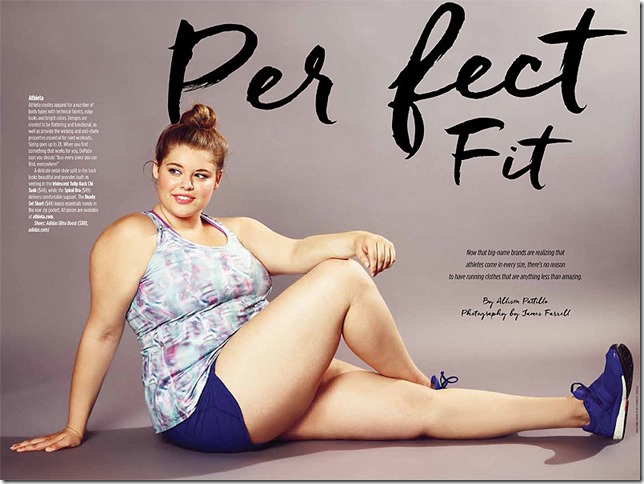 (source: People Magazine)
Women's Running also has a great article about "The Weight Debate" and offers great information on body fat percentages and scales and measurements.
(source)
The August issue of Runner's World features plus sized Ultra Runner and blogger Mirna Valerio. She says people are often surprised she runs so much, insinuating, "If you do all this running why are you still so fat?"
Years ago I went into a running store to buy running shoes for half marathon training and been told "Are these for walking?".
No. I run thanks. Or jog, wog, whatever.
For those of you who haven't run a race before let me tell you a little secret (seasoned racers chime in here)…
Runners at 5k, 10k, half marathon, full marathon, ultra marathons… are all different sizes and ages! Promise. I truly promise.
Before my first race ever I was super scared and intimidated that I would be the last one. That I'd be the only fat one. That I'd look sweaty and sloppy and chubby and a mess.
And I might have been.
But I was definitely not the only one who had some weight to lose. And I was shocked at the age range – there are people from tweens to great-grandparent looking people.
It's awesome.
And runners are especially awesome because of all those endorphins. Every runner I've met at a race is friendly and curious and nice and happy (and probably nervous or at least I am).
The point is, these two runners in the magazines aren't an exception to the rule. It's not "Hey look at that fat runner! How odd?!"
They're just runners. Like me. Like you. Like all the hundreds of thousands of runners racing this year.
We all look and sound and run and feel different. And I really love running. So if you love running too, do it.
And if you don't love running find an exercise that makes you feel good and makes you happy.
Keep going!