Whew! I made it. Just barely, but I did make it to Friday.
This week was rough, but I'm glad it's over 🙂 I think all the stress has accumulated on my body though because I woke up with my eye twitching
😉 <- No, I'm not winking at you. My eye is twitching.
I have been avoiding the scale since Curacao since I knew I over did it a lot there. This morning I finally bit the bullet and weighed myself. The results weren't too shabby, so I'm happy to report intuitive eating is alive and well over here.
It's reeeeealllly hard to lose weight while training for a race and I don't  suggest that being the goal for anyone. My goal during training has been not to gain the usual Marathon training weight (it's pretty common). After this weekend I'm tapering back and will be running less, but my appetite will stay the same. I'm going to make an effort not to gain anything during these last 3 weeks by being more mindful and eating whole foods. That's the plan Stan.
When I'm done with this race I might make a bigger effort to reign it in, but I haven't been doing that as of yet. Sure, I talk about it, but I've been just listening to my body (and sometimes my stess or fatigue) to tell me when/what to eat.
Ben weighed himself too. I taught him the whole "weigh yourself right after you pee first thing in the morning with no clothes" trick. As he was getting on the scale I joked to him, "Get ready, because this is going to tell you how much you're worth for the next 24 hours. If you should love yourself or not…"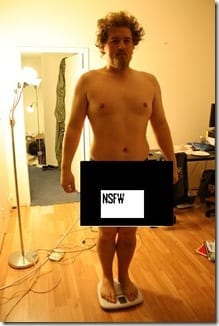 To which he replied, "Girls are f**ked up." Truer words were never spoken.
He is down a few pounds because he's been biking to work. I was excited for him, but he wasn't as thrilled. He shrugged and said, "I don't care that much." I like him.
I wasn't feeling like a run this morning, but I convinced myself 3 miles is no biggie and went for it.
I had dreams of an amazing smoothie for breakfast, but I feel like I've been in sugar and carb overload this week 🙁 My body just feels gross and bloated because of too much half foods (as opposed to whole foods). So I made an egg scramble.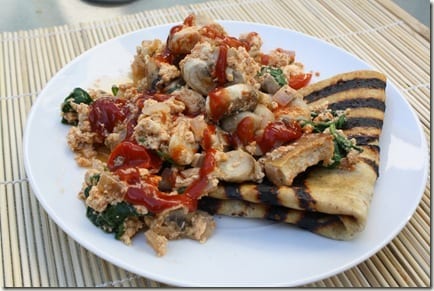 With a burnt tortilla because that's how I roll. I also added a wedge of laughing cow to the top after the picture.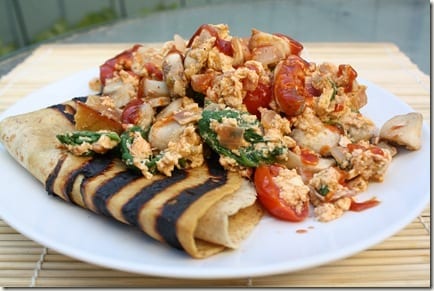 And since it's Flashback Friday… let's Flashback to a time when Ben didn't have that fro. We took this pic on a road trip through Paso Roble 🙂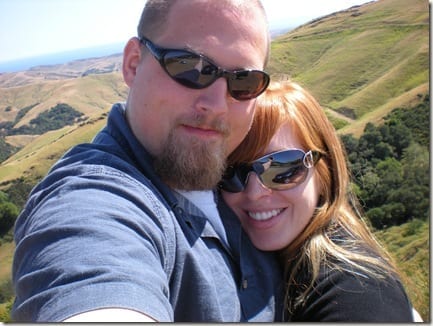 I am going to the fair with my mom today. I am not the biggest fan of the fair, and already went to the OC fair this year, so I'll try to keep the carb loading for tomorrow's long run to a minimum. And by "carb loading" I mean deep fried butter. Been there, done that.
Question: Where were you a year ago today?
I was in Maryland working as a reporter for a small news organization.  Now I'm in California and on the brink of a complete life/career change.
Wow, the difference a year makes.