Morning
Is everyone else happy it's Friday?! Since I was out of town Monday and Tuesday I have a lot of blog/writing stuff to do before the weekend (sorry if I neglected your emails – I'm on it!).
But, before getting to work I have to get in a 10 miler! Since I am now coaching a recreational running group (that does not really contribute to my  personal training) I need to do my long runs on Friday. I'm a "creature of habit", so this feels so weird. But, I'm dressed and fueling up with a bagel and iced coffee as we speak communicate via the internet
I'm wearing my tech shirt from the Black Cat 10 Miler. The reason I run is for the shirt, but a lot of the shirts I got this race season were long sleeved?! Now I have to retire those since it's getting to warm for that in SoCal.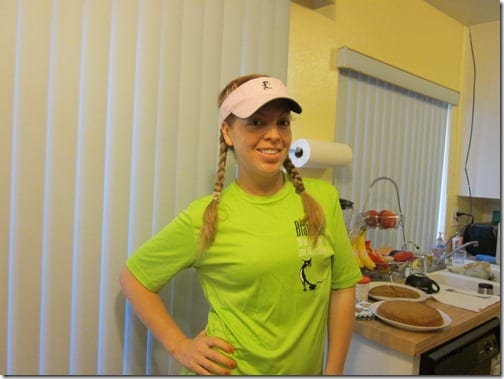 *Note the cake in the background, because I did last night…
This is a part of a series of posts leading up to the Fitbloggin conference. I'll be speaking on Blogging 101: Getting started in Healthy Living Blogging.

Today we're talking about my fave topic – FOOD! Friday's Fitbloggin breakfast will be sponsored by Attune.
We'll be enjoying…
UNCLE SAM CEREALS
Original
Strawberry
Honey Almond
EREWHON CERTIFIED GLUTEN FREE CEREALS
Crispy Brown Rice- Gluten Free
Crispy Brown Rice with Mixed Berries
Corn Flakes
Also on Friday, Attune is sponsoring a chat with Registered Dietician, Janel Ovrut. The section is called "Go with Your Gut: How Nutrition & Digestion Affect Your Performance". If you have a question you want answered by an RD go here and ask!
As if that's not excited enough, Attune is giving away a ticket to Fitbloggin plus $500 towards hotel or flight! Amazing, right?!
To Enter: Go here and explain why you should be the winner!
Contest will run from Friday, April 22nd until Friday, April 30th at 9:59 a.m. At 10 a.m. we will announce the winner on the attune foods Daily Digest blog.
Okay, I'm headed off to run. Ironically, I think I'm going to drive to my favorite running spot since my local route screwed me didn't work last week. I better make Earth Friendly Choices the rest of the day!!!
Question: Are you a creature of habit with your workouts too?
For as long as I can remember I did my long runs on Saturdays. It feels super weird to do them Friday even though it's only one day off?!?!