This morning I headed to the gym for an impromptu strength workout. I used the Women's Health Big Book and put together a work out for myself.
When I got home I contemplated French Toast, but decided on pancakes because I had pumpkin to use up – and because it's Pancake Sunday! I pretty much always use some variation of my protein pancakes.
But this time I added caramelized banana. These naners were super ripe and I sprinkled them with a  bit of sugar before cooking them.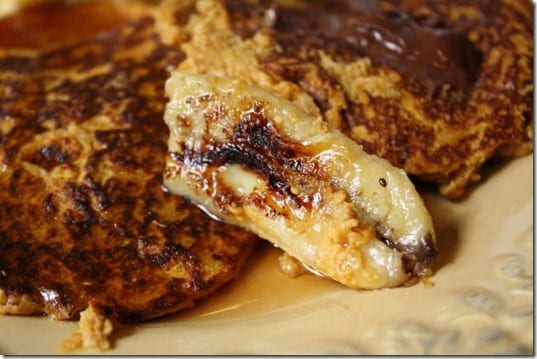 I don't know what made me happier – the warm, sweet banana or the melty chocolate PB.
Forks Over Knives Review / Thoughts
Last night Ben and I saw Forks Over Knives.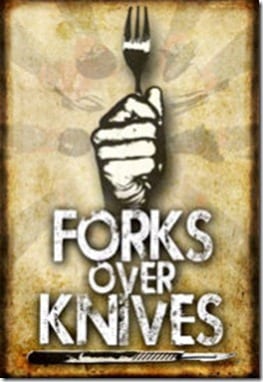 Plot (from MoviePhone): Documentary filmmaker Lee Fulkerson explores the possibility that so-called "diseases of affluence" such as heart disease can be reversed by simply adjusting our diets to include less processed and animal-based foods.
My thoughts: The movie documents a few specific cases of people with heart disease and diabetes that lose weight and are able to stop taking medication after following a whole foods vegan diet for 12 weeks or more.
That is awesome.
But, I take it with a grain of salt because these people went from eating crap  (the patients reference eating donuts and fast food) – to eating mostly plants and plant proteins. I suspect they would have had equally impressive results eating whole foods and lean protein. As in, the main reason for their weight loss and health improvements is cutting out the processed snacks, a lot of meat and fast food. They don't specify, but I'm sure their doctor supervised meal plan didn't include a lot of convenience foods (vegan or not).
The movie basically explains The China Study – an amazing, but very dry book about how people in rural China are healthier than people who eat animals on a regular basis. I've read it so I already knew the "revelations" from the movie.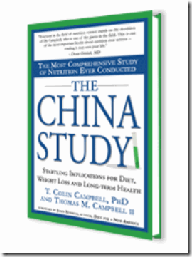 If you are already aware of the importance of staying away from high fat, processed foods – you will not really learn anything or "be moved" by this film. It was still interesting and I wasn't bored, but I didn't walk out of there like, "Wow! I didn't know that, I am going vegan tomorrow!"
BUT – Ben, who didn't read the China Study was moved. Over dinner he expressed that he was interested in cutting out dairy from this diet (you don't know how huge that is for "Whole Milk McGee" as I like to call him), and eating less meat.
The doctors in the movie make it appear that protein is not important. Personally, I think not getting enough protein and fat are main triggers for me to binge. I do think I can get enough protein eating a vegetarian diet, but am skeptical about getting enough while vegan (given my personal needs, tastes and desires to avoid being food obsessed).
That being said, Ben is interested in eating less meat and dairy and wants my help. We will be making efforts to eat more vegetarian foods and less processed foods.
Question: Seen the movie? Read the China Study? Think it's all hippie dippie propaganda?