Happy Friday!!!
How was your week?
I am very excited that Christmas is just around to corner because I get to vacation in fabulous Florida. This also means I'm celebrating Christmas with my fam this weekend and I was frantically trying to get everything ready this week.
Well, round 1 of my Christmas cards were vetoed for some reason after I ordered them and everything?!
No big, just hanging out with Meb, with Deena Kastor in the background.
So I went to get attempt #2 yesterday and I didn't realize until I was almost home that they gave me the wrong cards! #Fail
Fun fact: If you go to Costco twice in one day you deserve a one dollar churro.
Speaking of treats… I have been a french fry fiend this week. First Red Robin and then last night:
I paired it with a light eggs and broccoli for dinner because it's all about saving room for fries balance.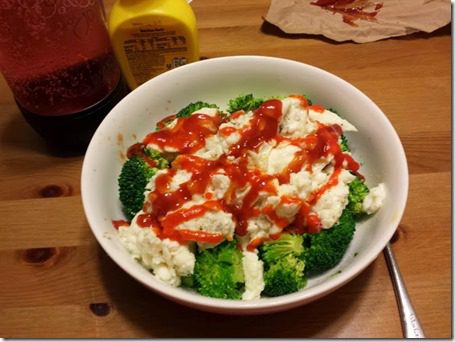 Friday Favorites:
1. Lace accents. I bought this comfy sweatshirt with lace the other day and love it.
2. Santa Clause needs nipple chafing relief too.
3. Timed space heaters. I always worry about forgetting to turn it off or having it on when I'm asleep, but it's been cold. I love that my heater only turns on when it's a set temperature.
It's the little things people.
4. I finished Orange is the New Black last night. I want to talk about it with someone!
Question: What's your favorite thing this week?