There are two night races on my schedule this year– one this week:
Disney's Wine & Dine Half Marathon
and one next week: Rock N' Roll Las Vegas Half Marathon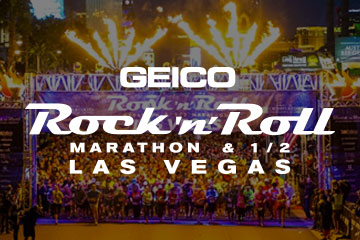 I am a morning runner all the way, so running after 10am is nearly impossible for me. Seriously, my body just doesn't like it  – I feel slow and heavy and it's not fun to run for me later in the day. But I have two races coming up that are night time races.
The Wine & Dine half marathon starts at 10pm and Rock N Roll Vegas starts at 4:30pm!
These late start times make it difficult to know what to eat and when to eat before running. You want to be properly fueled, but you also don't want to have stomach issues on the course!
Every year around this time I get questions from readers running RnR Vegas, like this one:
Q: I just read your blog about the Vegas Rock and Roll marathon. I will be running it in TWO weeks and I'm getting pretty nervous. If you have any suggestions as to what to wear, eat, drink before the race and what places are the "place to be" after the race , please let me know. I also heard that there will be so many people running (40,000??) that you really won't be running the first few miles..is this true? I've been training since May, so I feel pretty comfortable running, but is it going to be walk/run? (ok with me)
A: It is a big race, but I haven't had major issues with it being too crowded to the point of walking. Make sure you are lined up in the proper corral so you don't get stuck with a group that is going faster or slower than your pace.
Last year the race bib did get you into a club after party, but it was crazy crowded so we left after one drink.
Your usual running gear is fine, but remember normally race day get warmer as you run because the sun is coming up. For a night race it is usually getting colder so you will be chilly after the race. If you have family/friends coming ask that they bring you a sweatshirt or check a bag with something to wear after. 
How to Fuel for a Night Run:
I've run RnR Vegas for three years now and here is how I fuel up for the race: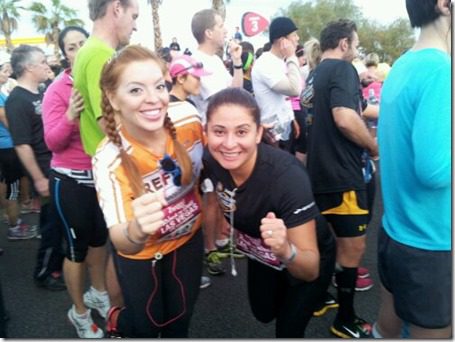 The days / night before race day: 
I show up hydrated and well fueled – especially if the race requires travel. Get enough sleep before travel and race day. Eat well. Treat your body like an athlete.
Then…
The night before I make sure to dehydrate a ton. Hey, it's a fun city – live it up!
Race day before a night race:
I rehydrate like it's my job on race day. I sip Spark and have even added it to Starbucks iced tea when I don't have a water bottle around.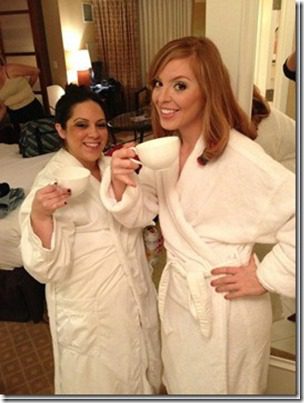 Race morning I usually have a big breakfast like epic pancakes from Grand Lux Café or Chicken and Waffles from Hash House a Go Go.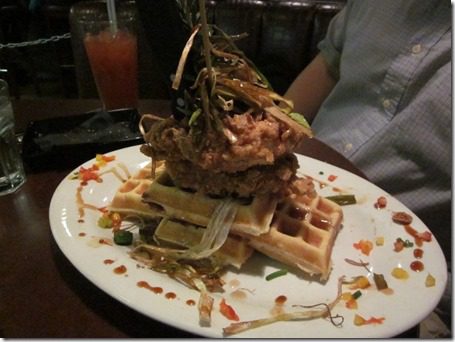 or Serendipity
If you prefer protein over carbs they also have the biggest wiener you have ever seen.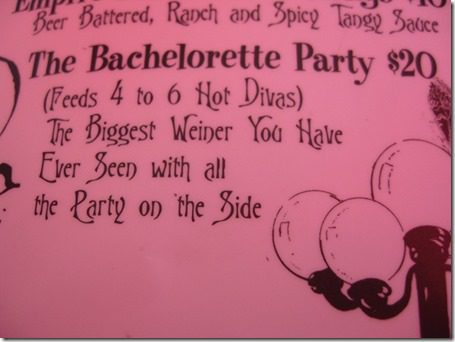 My pre-race meal is lighter and carb heavy, but easy to digest.
For lunch I might have a sandwich or salad with bread on the side.
Then, an hour or two before the race I have a  pre-race snack of carbs.
It's similar to what I eat before a morning race along the lines of toast & banana but I usually get a salty pretzel from a random place I walk by and it does the job. You can do your usual race day meal too – just make sure to pack it with you.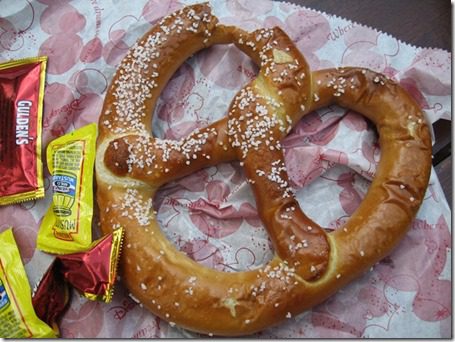 I show up with a plan for fueling and getting properly hydrated. But always listen to your gut – literally. You should eat healthy and balanced, but if all you can stomach is a bagel for breakfast, lunch and snack – then do you.
Eat foods you know your body 'likes' and things that won't give you tummy issues. Make sure you are hydrated and hit the porta potties before the race to try and avoid having to pee during the run.
Most importantly – HAVE FUN!
Good luck to everyone running the Rock n Roll Las Vegas marathon or half marathon this weekend!!!!
Question: How do you fuel for a workout or race in the afternoon?