Hi! How's it going? I have some good news if you didn't get into the New York City Marathon lottery… PowerBar is offering runners a clean start to apply for an entry to the race!!
From March 1, 2017 through April 12, 2017, consumers can visit PowerBarCleanStart.com and share why they deserve a Clean Start at the 2017 TCS NYC Marathon. Winners will receive a race bib (entry to the race), along with training tips from PowerBar athletes,  product and gear leading up to the race. (Opens tomorrow for this!)
There will be 17 winners! So – check it out and let me know if you run / win / other!!
NYC Marathon lottery is over. This is a 2nd chance to apply from PowerBar starting tomorrow.
Last night I made zucchini pasta with tons of onions and a jarred sauce. It was amazing. I know onions make ya stink, but I love them. AND they are really good for you.
Right now I'm extra obsessed with nutrition for cancer prevention. My best friend is doing the "Undie Run" this weekend and raising money for colon cancer research because her Nina passed away from it. This was the main cause of my aunt's passing year before last. And I recently heard about someone else being diagnosed. It's heart-breaking. I'm being a good friend to my peeps first and foremost.
But beyond that I am on a mission to learn more about cancer prevention. I listened to a few podcasts this morning about what to eat to help prevent and fight cancer. Two that stuck out to me were podcasts that talked to the authors of "How Not To Die" and "Eat Dirt". (These were separate shows and interviews, unrelated to each other but complimentary in their subject matter.)
Has anyone read these books? Both authors were very articulate and interesting.
In others news… I have a chocolate stash.
Do you?
I broke into it last night.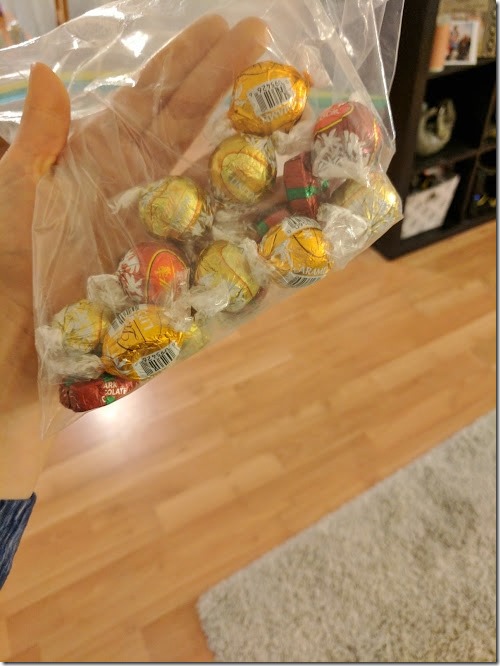 My flowers from Cindy are getting prettier by the minute! I love it.
And I'm making sweet potatoes in the crockpot!! I'm super excited about this. I love sweet potatoes and usually just 'cook' them in the microwave. But baking them makes them so much better! I'm hoping this is closer to baking in terms of taste and texture.
As seen on my run: A big bunny! I saw it peeking out of a trash bag yesterday. I guess someone came and pulled it out of the trash bag, but left it.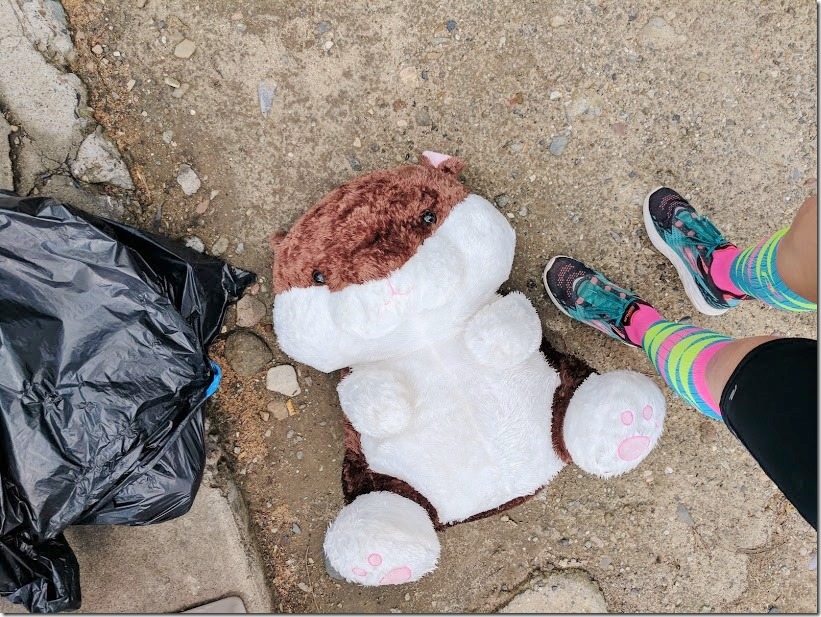 Marathon training update:
My run today was good, but not great. I had a good run Sunday at goal pace. I need to make time for stretching and foam rolling because my legs just feel tight and tired. I have a long run this week and then the LA Marathon in just under 3 weeks. I'm going to go back over my thoughts and splits from Surf City to learn what I can do different next time to improve.
Today's Hyland's Powered Challenge is to share – 'How do you reward yourself for running?'
Without a doubt it's delicious treats. Most of the time that's fro-yo but lately it's also included a good amount of donuts!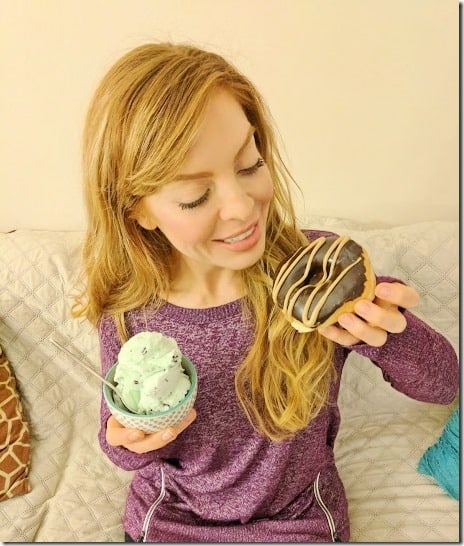 Question: How do you reward yourself?
Have you read "How not to Die" OR "Eat Dirt"? Thoughts??