Hello! Sorry for the delay – I had 2 morning clients. Since I wanted to get a run in first I woke up bright and early!
I haven't ran since Saturday to give my muscles a rest, and still felt very tight today. I have a big knot in my right hamstring that almost turned into a major cramp. I stopped 2 times on the run to stretch it and prevent a Charley Horse. This has only ever happened to me once before (during my marathon) so I'm not sure how to fix it? But it still feels super tight and I don't have a full range of motion in that leg
I grabbed breakfast on my way out the door – pumpkin oatmeal with Sunflower Butter and a side of cat butt.
Eaten on my 5 minute drive to work. I didn't finish the coffee and promptly spilled it all over my car when I was done with work. #MajorFail
After the gym I headed to tan. How very Jersey Shore of me, no?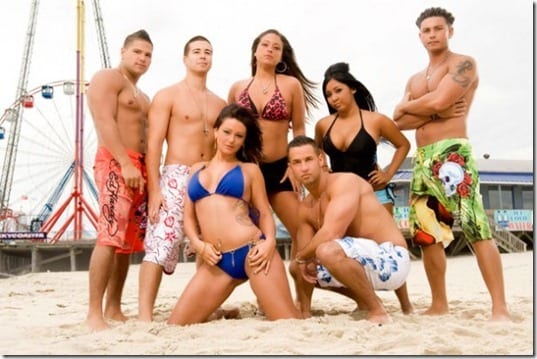 (source)
But, I don't do the tanning beds – I do Mystic Tan (the spray tanning).
If you're unfamiliar – it's a booth that sprays you with tanner. You get in completely naked and are sprayed back and front with poison that will kill you, but make you look healthier at the same time.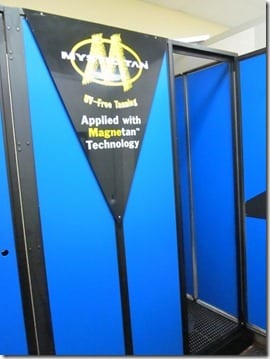 It sets in a few hours after the spray so I still look the same for now. It will slowly darken over the next few hours.
After my tan I considered doing laundry, but opted to get my nails done instead
Hey, I spilled iced coffee all over my car – I needed some indulgence.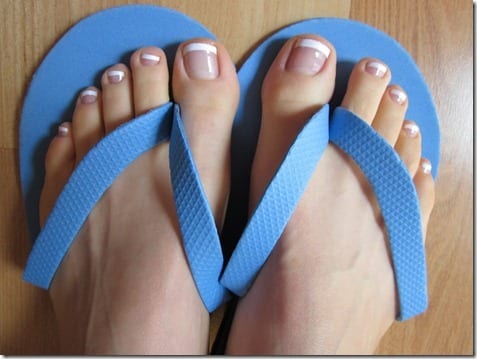 I went with a light pink this time since they will be chipped in 2 hours or less. Hopefully, this color will make it less obvious.
Now it's time for the final "L" in my GTL day – Gym, Tan, Lunch!