How I curl my hair with hot rollers! This is one of my most requested videos! And I'm finally posting a quick tutorial on exactly how I do my hair. The delay was mainly because I usually just throw hot rollers in my hair, put on make-up, change and then go on with my day – in a big rush (picture Stitch trying to get ready in the morning). So I knew it wouldn't be perfect and I was waiting to have the time to set up the camera somewhere with great lighting, take my time, part my hair in perfect sections, have mood music in the background…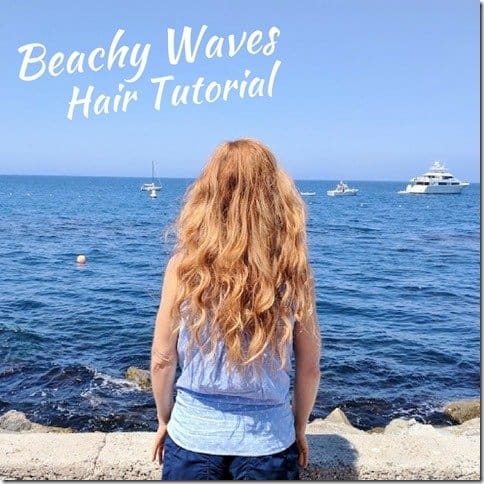 Then, I remembered – you know I'm just me and not fancy and don't really expect a big production video. And I've really wanted to get this to everyone who's been asking for the longest time! So, I threw this together and should have probably left the hot rollers in longer. And I didn't flip / shake out my hair as enthusiastically as I usually do – but I was a lil afraid I'd knock my head on the counter and pass out and I'd have a concussion…
Point is – I hope this is helpful and informative even if it's not perfect. Thank you for letting me know what you want to see / learn / know from me! And keep it coming!
You can ask a question or make a request in the comments or on @RunEatRepeat via Instagram.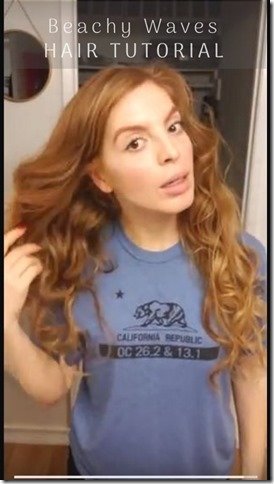 Other ways to watch my tips, tutorials, Q&A videos:
How to watch my videos on Instagram TV:
Go to @RunEatRepeat on Instagram and check out the IGTV button under my profile. They are ordered left to right with the newest videos added on the left. Slide to see previous videos. I have a lot of Q&A videos up too.
* @RunEatRepeat Instagram TV Channel *
How to watch my videos on YouTube:
Check out the Run Eat Repeat YouTube Channel –  and please subscribe so you don't miss any new videos!
* Watch the Beachy Waves Hair Tutorial video here *
How to watch it live and in person:
Or you can watch me live and in person by standing outside my bathroom window. 
*You must make an appointment ahead of time so I can inform the homeowners association or it's considered 'trespassing' or 'stalking'… I don't know the official legal terms. On second thought – just watch it one of the other ways listed above.*
I've used a lot of different brands and styles of hot rollers in an effort to find the BEST one. Here are some options that I think work great.
First keep in mind my hair might be different from your hair. So, you might need a different type of roller or to leave it in longer or …. I don't know. But you should. Know yourself (mind, body, hair, heart) and what you need.
NOTE  –  The hot rollers I have and most of my recommendations DO NOT turn off automatically. I've actually never used a set that does have an auto turn off – but I saw someone mention it in the reviews on Amazon and wanted to make sure to let you know. You must unplug the hot rollers base when you are done.
My hair description to see if it's like your hair:
– Red : I'm a natural redhead aka my hair isn't dyed =  I don't have any damage from dyeing my hair. So I'm not concerned that using hot rollers will damage my hair since it's pretty healthy. I also think using hot rollers are less damaging than using a curling iron or straightener in terms of heat damage – but I haven't researched the facts on this.
– Long : um, long as in not short. My recommendations work for long hair.
– I have a lot of hair, but not course or thick strands of hair. I need a set of hot rollers that can hold all of my hair. This means using a set with a lot of rollers or a set where the rollers are long and able to hold a lot of hair on each one. I think having a set with claw clips and not wire pin type clips are the way to go.
– Straight: My hair is naturally straight and doesn't really hold a curl when it's clean. And it doesn't hold a curl all day. My curls look best the day after washing it.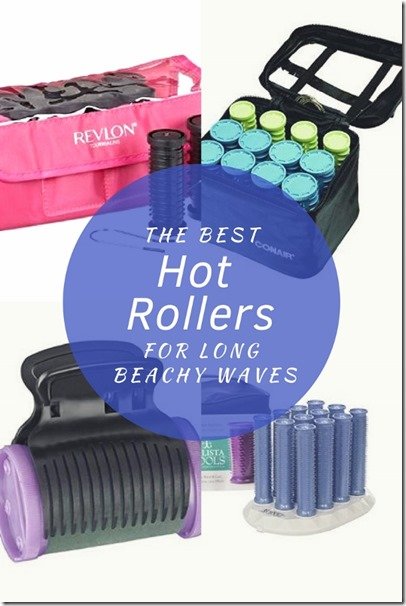 The Best Hot Rollers for Beachy Waves:
Calista Tools Ion Hot Rollers – These look most similar to the hot rollers I have. There are 12 long rollers and it comes with claw clips.
Revlon Travel Hot Rollers – I've used these for traveling and like them. But I would use claw clips with them to make sure they stay in place. There are 10 of these rollers (my usual set has 12) but I can make it work no problem.
Revlon Perfect Heat Hot Rollers – This is a set of 20 and comes with claw clips.
Conair Instant Heat Travel Hot Rollers – Rollers look similar to my hot rollers and it comes in a soft, small case that works for travel. But this one doesn't come with claw clips (you should buy them separately).
Claw Clips to use with hot rollers – If your hot rollers don't come with claw clips – order them and just use them with what you have.
Let me know what videos, podcasts and blog posts you'd like me to do next!
Email – [email protected]
Call – 562  888 1644 to leave a voicemail message