Here's a list of things I must have during Half Marathon Training, Marathon Training and for Race Day. I'll link to all my favorites below and add notes on similar items and options. I use all of these for both full and half training so they are things you can apply to either distance.
Half Marathon & Full Marathon Training Must Haves
This first list is the running gear I wear on every run from head to toe, then non-clothing items I wear / carry while running (like technology and hydration gear). The second list is post-run essentials like recovery gear, cross training / workout equipment, etc.
I'll link to the specific brand/style in the list with some notes on why I like to use it for running. Most of these items are probably available at your local running store, big running stores or athletic clothing stores. I shop for 99% of my running gear online now.
Half Marathon & Full Marathon Must Haves (for RUNNING)
Running Visor – I wear a Run Eat Repeat visor with a wider brim that usual running visors. They're not available for sale at this time, but DM me if you're interested and I'll look into ordering more.
Goodr Sunglasses [Running Sunglasses] — Love that these come in a variety of lens and frame colors. I have many pairs and switch them up depending on lighting and preference.
Sports Bra – with adjustable straps and clasp back closure —  My sports bra has to have adjustable straps AND a clasp back closure.
Athleta Speedlight Top Long Sleeve [Running Top]  // Athleta Speedlight Tank Top 
Fabletics 9″ Define High Waist Shorts [Running Shorts]  // RRS Recharge 2.0 8″ Running Shorts  // Athleta High Rise Elation 9″ Shorts 
Pro Compression Socks [Running Socks] —  Great compression and so many fun design and color options.
Low Cut Compression Socks–  I think the right socks and shoes can help prevent blisters and that's important.
Polar Vantage M Running GPS Watch 
Flip Belt Running Belt – I like a 'step in' design. And it has to be big to fit my phone.
Slim Water Bottles that fit into the running belt pockets 
Nathan Speedshot Handheld Running Water Bottle – Sometimes I prefer using a hand held water bottle over the small bottles you can put in a fuel belt because they can bounce.
Nuun Hydration Tabs – This is one of the electrolytes I put in my water bottles and drink before long runs.
Clif Shot Blocks – Margarita Shot Blocks are my favorite, but try these in training to figure out your preference.
Clif Energy Gels Variety Pack (with Mocha)– Again, try this while you're training to figure out what kind of fuel you like.
Sun Bum Spf 50 Sunscreen Face Lotion [Sunscreen I just use on my face]
Banana Boat Spf 50 Sports Sun Screen 
Podcasts and Audio Books – (PS… the Run Eat Repeat Podcast is coming back soon!)
Aftershokz Aeropex Open Ear Headphones–  Love these! So important to head what's going on around you when you're running outside.
Running Shoes
RUNNING SHOE TIP: I listed my favorite shoes, but this is one of the many things that's extra important for YOU to decide on based on your body and needs. If you're a new runner or need new running shoes and don't have a favorite pair – check out your local run store to get fitted for shoes and get suggestions on options that are best for your running goals and needs.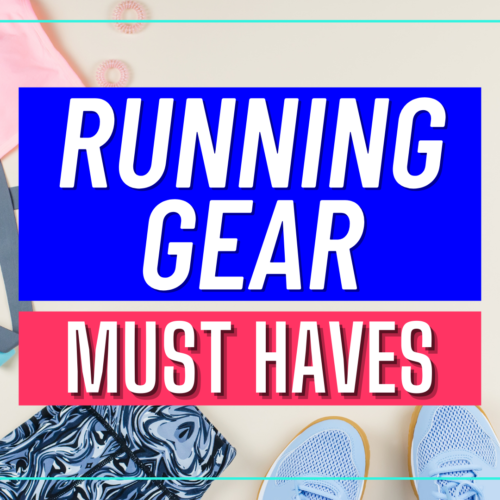 And here's a list of things I use after running, for strength and conditioning work, rest days and recovery.
Half Marathon & Full Marathon Must Haves (POST-RUN)
Keep Going with these: