Yesterday after work I hit up Happy Hour with the SoCal runner girls.
It was fun except Once Upon a Lime accidently chugged someone else's beer. And by 'accidently' I mean pre-meditated.
I got a hamburger salad because I already have enough buns. Get it? And because we got sweet potato fries and fried pickles. It's a tiny bit of balance, right?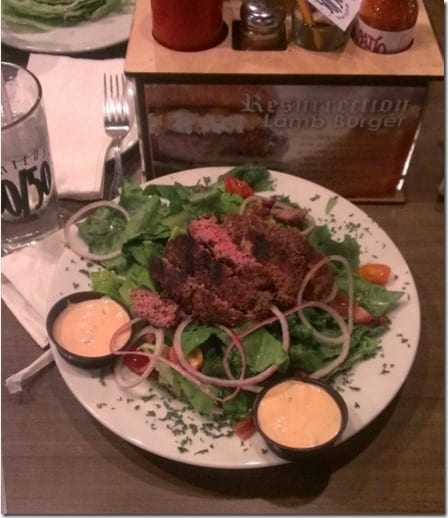 Marathon Medals Display Hanger
Okay, you may have heard I like to Run and Eat. I even made a little website about it. Obsessive much?
Anyway, at this point Run Eat Repeat is my only hobby, friend and love.
So, when the owner of Sport Hooks offered to make me a personalized RER race medal hanger I got super excited!
This is like Christmas morning the year you got a doll with red hair for once!!! <- wait, was that just me?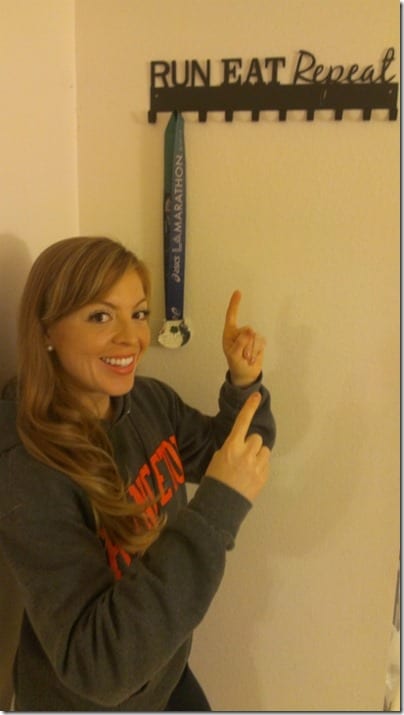 I was way overdue for a new race medal hanger too! My old one is about to fall off the wall. Seriously.
You can get a Run Eat Repeat SportHook for $63.95 here
Or pick up another less, RERtastic version at their SportHooks shop. They have so many designs!
I know I have some RunDisney lovers out there too.
SportHooks will have a booth at the RnR San Francisco expo this weekend – so stop by and tell her you read some weird blog called Run Eat Repeat and get free shipping on RER hangers and no tax if you buy it in person!
Question: Have you ever been to San Francisco?
Are you going this weekend??
I'll be at RnR SF this weekend, hitting up the expo Sat. Follow RER on twitter so you can know exactly where I am at any given moment even though that's  probably wildly dangerous and irresponsible.