Hello! I have more race discount codes for you today! I love when I can share the love.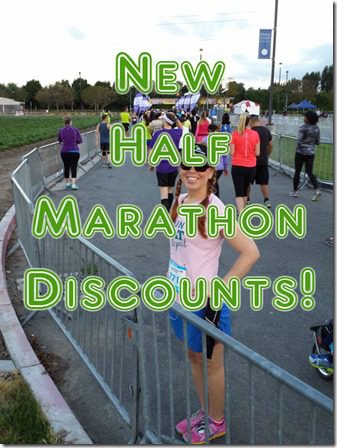 It has only been 28 hours since the Ventura Marathon and I'm all ready to get out there and run another race! And if you want to come out and run a half marathon in two weeks the Harvest Half Marathon is Sept 20th in Camarillo!
And there are two awesome half marathons north of Los Angeles in December too. So you have plenty of time to train for those if you want to actually show up on race day prepared (not my style, but whatev).
Race Discounts:
Santa to the Sea Half Marathon Dec 14th Oxnard, CA
20% off if you register in September code:  STTS201420off
(this discount will decrease to 15% next month!!)
the Harvest Half Marathon Sept 20th Camarillo, CA
and/or
the Holly Jolly Half Marathon Dec 21st Camarillo, CA
20% off discount with code: OLIVAS2014
*Note you have to register at the race website (link above) to get the discount. It doesn't work at Active.com
Running Blog Gear Discounts
RER Spreadshirt Shop SALE! 20% off Sportswear items with code: SPORT20
That includes the RER Performance Tee (tech tee)
Women's Long Length Tank (I don't run in this one)
Question: What's on your racing schedule for the rest of the year?