Hello! Happy Monday! How was your weekend? I ran the Ventura Marathon and ate a bunch of random food.
After the race I stopped at CVS for a big water and saw all the new Lay's potato chip weird flavors in the min-bags. So, post-marathon delirium made me buy them.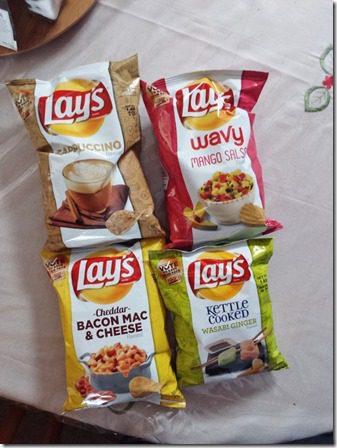 I took them to my mom's and we all tried them and voted (not officially just out loud). So, they are all just 'okay' at best – none of them were 'good'. The Bacon Mac and Cheese got 3 votes, Wasabi Ginger got one. The Mango Salsa is too sweet and the Cappuccino is just not supposed to exist. The end.
These were all the mini-bags and we didn't finish any of them between 4 people. That kinda shows that even the best flavor isn't good.
Moral of the story: Don't buy them. Let your Monican waste her money and calories on this crap and now you know.
For dinner we went out for margaritas! This sucker was HUGE – probably why they gave me two straws. Maybe I was supposed to share it?
The salad was massive too. (When you wake up at 4am and run 26.2 miles you are allowed to wear sunglasses for pictures. Miss Manners 2014)
Ben's birthday cake for dessert! How nice of my mom to buy his favorite pink zebra plates for the occasion.
Post Marathon Recovery
I took an ice bath after the race and feel great today! My knee hurt a little last night, but I'm not sore at all this morning!!
I took a walk and did some stretching and a quick 5 minute ab set.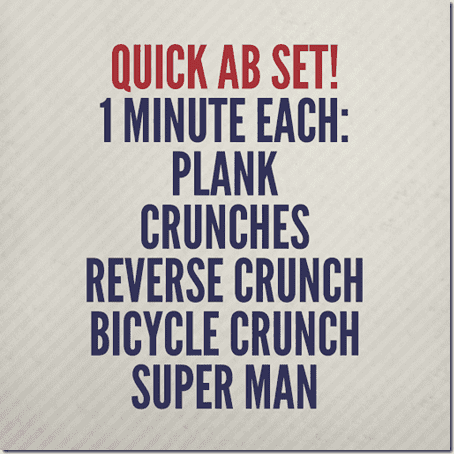 Random tree branch down.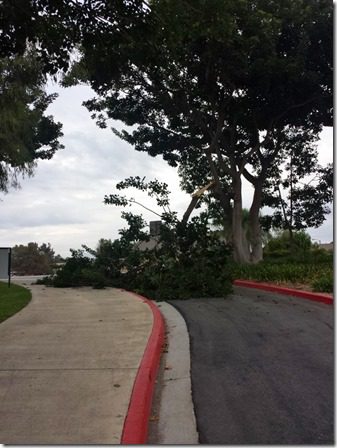 And now I'm off to catch up on work! See ya in a bit!
What I'm wearing today:
Not really, but I am thinking this… #ootd
Meatless Monday Idea:
Mexican Pizza <- I'm definitely in the mood for pizza today!
Question: What's for dinner?
I didn't do any prep yesterday so I need to figure out my meal plan for the week.