Half Marathon Race Morning Routine Video – here is my morning routine for race day. I'm sharing everything from wake up time to what I drink while getting ready to what I eat before a race. I try to plan out what I'm going to wear, eat, drink, time-line, post-race needs and more. This video is exactly what I did, what I ate, how I prepped before a half marathon.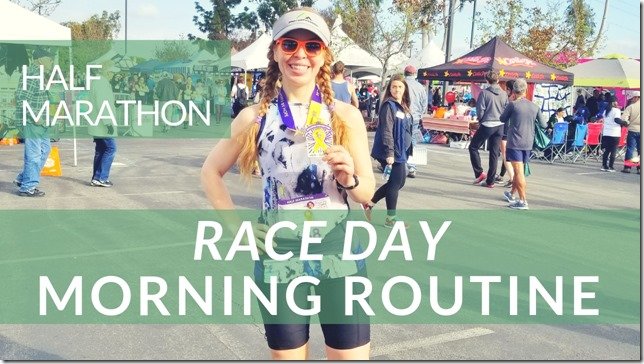 This pre-race routine is footage from the morning of the OC Half Marathon. It was a very early wake-up and I really was getting ready to get to the starting line and run 13.1 miles so I'm a little nervous – but that's real life! Race morning can be stressful and I get nervous every time. But planning out your run or race morning can help ease your nerves a bit. Checkout how I get ready to run and let me know if you have any questions!
And the OC Marathon & Half Marathon is next weekend!!
LAST CALL to register and save with discount code: RUNEATREPEAT10
Half Marathon Race Morning Routine Video:
(Watch the full video on YT or FB now. They're exactly the same – just giving ya options on where to watch.)
* Half Marathon Race Morning Routine via YouTube *
* Half Marathon Race Morning Routine via Facebook *
Half Marathon Race Day Tips:
Lay out all your gear the night before.

Make sure your phone / watch / other are charged and ready to go.

Plan out your drinks and food that you'll eat / drink before the race.

Know how you'll get to the race, directions and where to park.

Double check race start time, how long it will take to get there, park and get to the starting line.

If you're meeting up with friends or family communicate where you'll meet them.

If they're spectating the race – tell them what you'll be wearing and about how fast you'll be running.

Pack a post-run bag if you want a change of clothes or certain food after the race. Most races have gear check but anything that's not essential you can keep in your car or give to your spectators to hold.
Half Marathon Gear I used in this video:
Pro Compression Visor
Sunglasses – look for 100% UV protection & polarized
Brooks Sports Bra – Any Day Sports Bra
Run Eat Repeat shirt – available in my Spreadshirt shop
Road Runner Sports Shorts – 8" Recharge Shorts
Brooks Running Shoes – Save 20% at Road Runner Sports >> (where I get my shorts and shoes)  >> when you use code RUNEATREPEAT to sign up for their VIP Program. Or save 10% using code RUNEATREPEAT if you make a purchase without VIP club signup.
Garmin GPS Running Watch – I have the Garmin Forerunner 235
BONUS:
Check out the Race Discounts Page to save on more races now!
The Lexus Lace Up in Irvine 5K SOLD OUT! And the half marathon is very close! So if you want to run the other Lace Up Races – Ventura, Palos Verdes or Riverside – register now using code MONICA10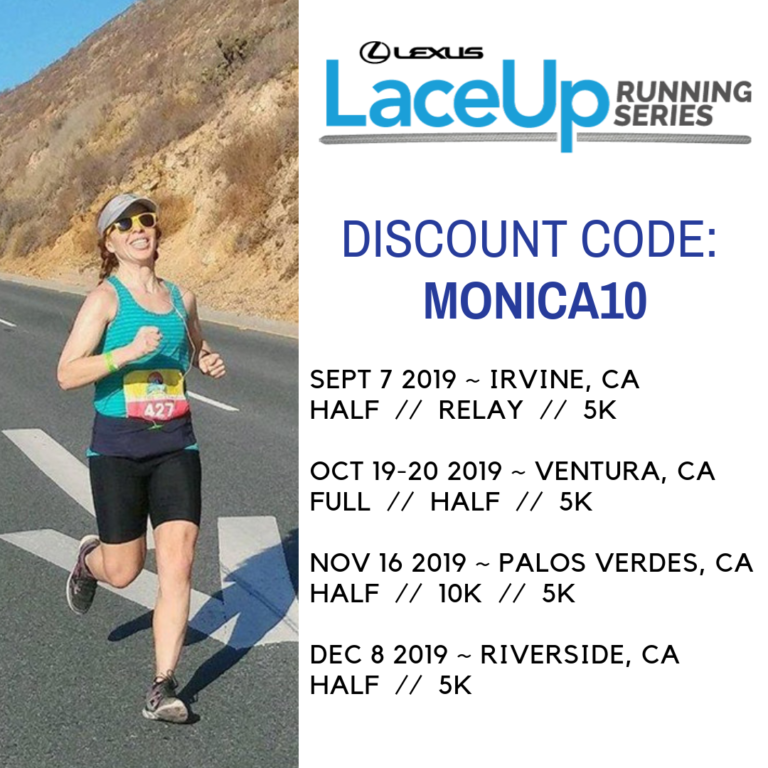 What should I cover for my next video?
Do you have any specific questions? Let me know!