Here's a recap of WEEK ONE of training for the Run Disney Wine and Dine Half Marathon. I have a few other races scheduled for this year, but Wine & Dine is such a fun one, a big deal destination race and a popular first time half marathon for a lot of runners – so I decided to focus on training updates for this race more than the others this season.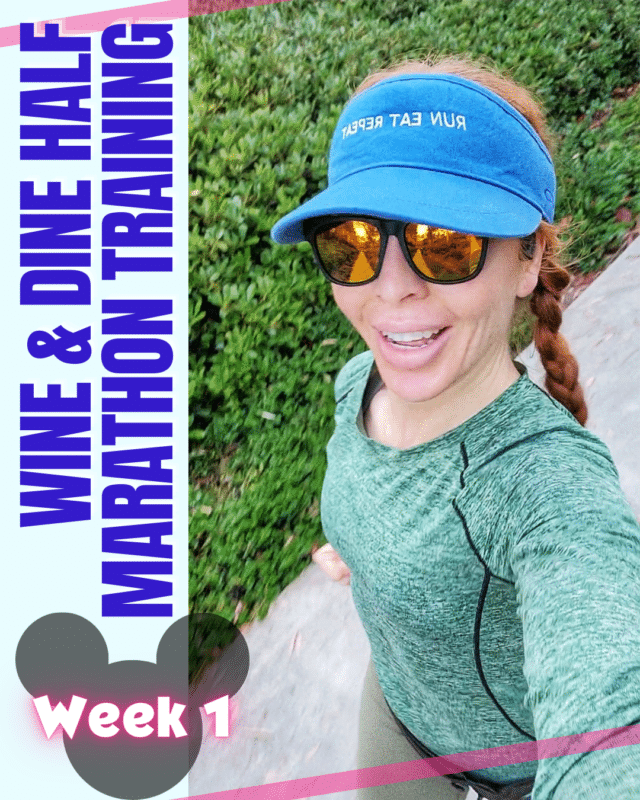 If you're training for an October or November Half Marathon – our training calendars may be similar. Comment on my latest IG post or DM if you want to chat about running & training –> @RunEatRepeat on Instagram 
Run Disney Wine & Dine HALF MARATHON TRAINING – WEEK 1
Welcome to week one of my half marathon training journey as I prepare for the Run Disney Wine and Dine Half Marathon on November 5th in sunny Orlando, FL. Last week was a mix of challenging workouts, recovery days, and focused strength training to ensure I'm ready to conquer those magical miles.
Monday: Speed Run I kicked off the week with a lil speed run. The goal was to get started back into structured run workouts with some short intervals. The sun just rising as I started, but it was still HOT. That's how weather works in the summer – so I wasn't surprised. Incorporating speed work into my training is key for enhancing my overall performance, and this run left me feeling accomplished and motivated for the week ahead.
Tuesday: Easy Run & Core On Tuesday, I opted for a happy, easy-paced run. These runs provide a great opportunity to loosen up and recover from more intense workouts. Afterwards, I dedicated some time to core exercises. A strong core is essential for maintaining proper running form and preventing injuries. Planks, Russian twists, and leg raises were on the menu – I kinda love the burn, is that weird?
Wednesday: Tempo Run Midweek, I tackled a challenging tempo run. This workout is designed to improve my lactate threshold, helping me sustain a faster pace for longer periods. Pushing myself during tempo runs is tough but incredibly rewarding when it's done.
Thursday: Upper Body Strength Training (Rest Day from Running) Thursday was all about giving my legs a break while still working on my overall strength. I did an upper body strength session, targeting my arms, shoulders, and back. Strengthening my upper body helps maintain balance and posture during long runs.
Friday: Easy Run A relaxed easy run was just what I needed on Friday. These runs are like a breath of fresh air, allowing me to enjoy the process and check in with my body. It's all about maintaining consistency and keeping my legs moving without overexerting myself because I know I have a long run scheduled for the next day.
Saturday: Long Run Ah, the long run – a staple in any half marathon training plan and usually my fave run of the week. I did this week's long run on one of my favorite routes, but really need to change it up next weekend as I started to get bored towards the end.  Hydration and fueling strategies played a significant role during this run – it's prime time to nail down your hydration and fueling.
Sunday: Rest Day After a good week of training, Sunday was my well-deserved rest day. I was really intentional about not doing any structured exercise because I wanted to feel fresh for next week. I did some stretching in the morning and evening focusing on my tight spots and my muscles thanked me. .
As I reflect on the past week of training, I'm filled with a sense of accomplishment and determination. Each workout brings me one step closer to my goal of conquering the Run Disney Wine and Dine Half Marathon. With speed runs, tempo runs, strength training, and essential rest days, I'm building both physical and mental resilience to make this race day unforgettable.
Stay tuned for more updates as I continue to push my limits and strive for excellence on the road to the Run Disney Wine and Dine Half Marathon. Remember, every stride counts, and I can't wait to share my journey with you all!
Keep Going with these: