Hello! How's it going? I am so excited about all the response to my first time half marathon training plan!! WOW! I am so excited (and overwhelmed). But I think I'm caught up on the most important things for now – if you signed up you should have received the plan and first email. If you signed up but didn't get it – email me!
Oh! Before I forget – are you watching the Olympics? I kinda love it!
How  'bout we talk about my running and eating for a quick second?
I listed my workouts from this week below. Instead of a written down running log I've been taking notes on my phone. This seems to work better for me and I actually do it. It's not super detailed but helps give me an idea of how a run went and if there was anything I want to remember about how I felt, fuel that worked or didn't work, etc.
What I'm eating highlights include perfectly ripe strawberries and avocado – just not together.
It's about balance!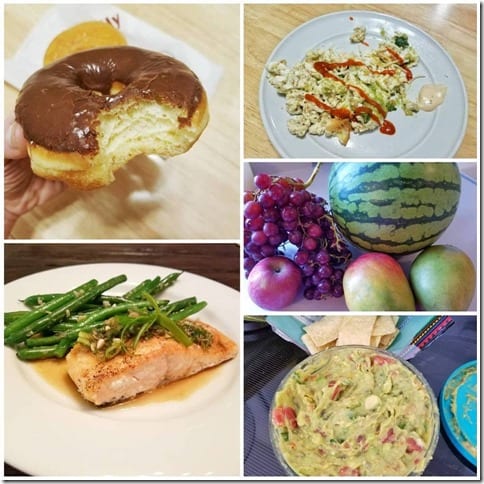 I had a crappy week of running that was 99% my fault. Yeah, I was a little busier than usual and had to cut one of my runs short for a legit reason but outside of that I was a slacker. Boo.
Running Log for the week of February 11th.…
Sunday was my only good run – but I'm extra grateful that if I only really showed up one day it was race day. I did the Palm Desert Half Marathon and felt like I ran a good race. (Race recap coming soon!)
Monday – Rest day to let my legs recover after the half marathon. Strength training full body.
Tuesday easy 6 miles. I planned on doing a tempo run on Wednesday so I kept something in the tank for that.
Wednesday – 8 mile run had to cut it short because I had an appt. No stretching or strength.
Thursday – Walk and full body strength workout. This is a usual rest day for me.
Friday – 8 miles. Cut it early because I was worried I'd hit a ton of traffic headed towards LA for my aunt's funeral.
Saturday- 10 miles. My weekend long run didn't happen. I ended up working both Sat and Sun morning on a ton of emails and questions that came in about the half marathon training plan. I should have planned this better and done it after my run.
Sunday – 11 miles . I spent from 5 a.m. to 8 a.m. working on the first time half marathon email list and FB group. I had about 90 minutes to run and then had to get ready for lunch plans with my family. Did what I could with the time I had.
Here's the intro for the Half Marathon training plan.
Sign up here if you want to join the group NOW. — There will be another group starting in July or August.
The half marathon group training is full.
Question: Are you watching the Olympics? What's your favorite thing to watch??