Hello! I love a good mug recipe and this one is a healthy take on French Toast. It's so easy to get a great combo of protein and grains in a delicious meal in a mug. And if you're feeling a little fancy you can take it up a notch with toppings.
Using whole wheat bread and egg whites make a  mug packed full of delicious protein and whole grains to keep ya full. Top it with nuts or nut butter for healthy fat and you'll be fueled up with a super quick breakfast or snack.
AllWhites® 100% liquid egg whites is a convenient, fat-free, cholesterol-free and low-calorie source of lean protein – ideal for providing you the energy you need for everyday.
Super easy breakfast in a mug with a few ingredients!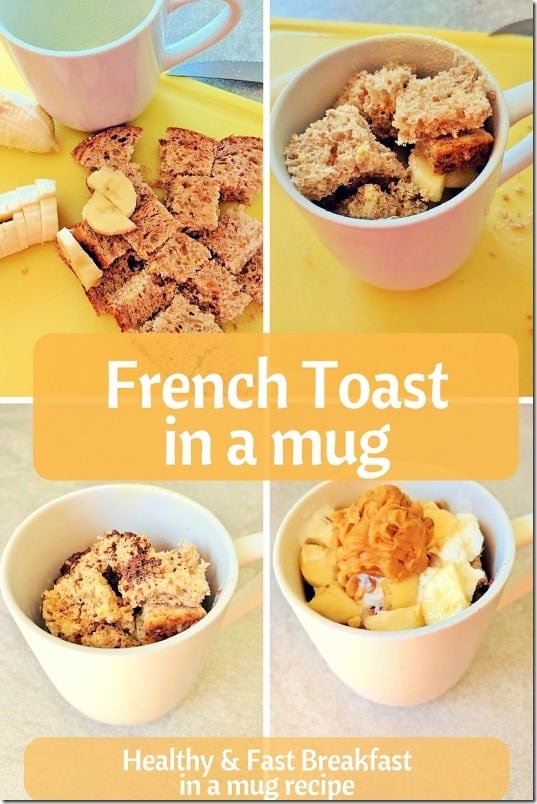 Healthy French Toast in a Mug Recipe
| | |
| --- | --- |
| | |
Directions: Chop banana and bread into bite sized pieces. Mix remaining ingredients together in a small bowl. Spray mug with non-stick cooking spray. Place bread and bananas in mug – layering so it's evenly dispersed. Pour egg whites mixture over bread. Microwave for 1 minute. Mix. Microwave again for another 1-2 minutes or until set. Let sit for a few minutes. (Careful, the mug will be HOT.) Top with maple syrup, PB, yogurt, banana, nuts… whatever you want!
*Careful. The mug will be very hot after cooking. Let it cool down before touching.
*Giveaway Closed*
GIVEAWAY for KIDS 
If you've put your kid in charge of cooking for the week I have a great contest for you!
Enter to win a 27 piece Kid's Cooking set!
*Chef kit giveaway closed.*
What's your favorite French Toast Topping?