Tomorrow is National Trail Mix Day! I have a healthy trail mix recipe below, but first let's talk running…
This morning I did a short speedy run. I went to my favorite 5 mile loop, warmed up for 1 mile,  did the three in the middle as fast as I could and then cooled down for the last mile. I rested in between the miles to get water and/or switch the song that was playing.
It was a pretty good run. I've realized that I don't hate speed work as much as I am just lazy and don't like to think or count.
Ha! That sounds so tragic. I swear I'm not dumb, I'm just lazy. Is that better or worse?
Probably worse.
But the point is when I do speed work this way I don't have to count or keep track of sets and can just RUN. Just like I like it.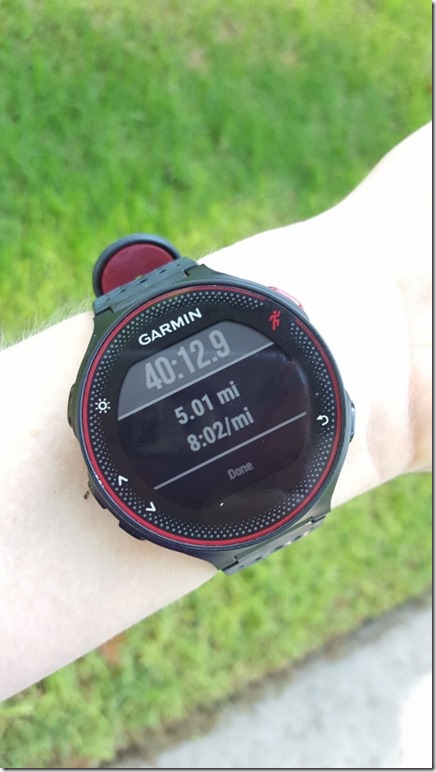 When I drive out to run somewhere (as opposed to just walking out my front door) I bring a snack in my bag.  I'm usually hungry and don't want to have to stop somewhere to get something to eat. This is healthier and cheaper and faster because I already have it with me.
Today I brought along some trail mix in a baggie. Trail mix is one of my favorite things! Actually any kind of little snack foods in a baggie are my jam. I like snacks.
But if you think about it – trail mix was meant to be eaten on a trail, to give you a lot of calories in a small amount of food.
Most ready made trail mixes  you buy at the store are very calorie dense and the serving size is only a quarter cup.  I'm a volume eater and I'm a master of putting together a snack mix that gives me more food and fiber to keep me full.
Tomorrow is National Trail Mix Day and I'm working  with fiber.org to share some tips on how to make a healthier trail mix.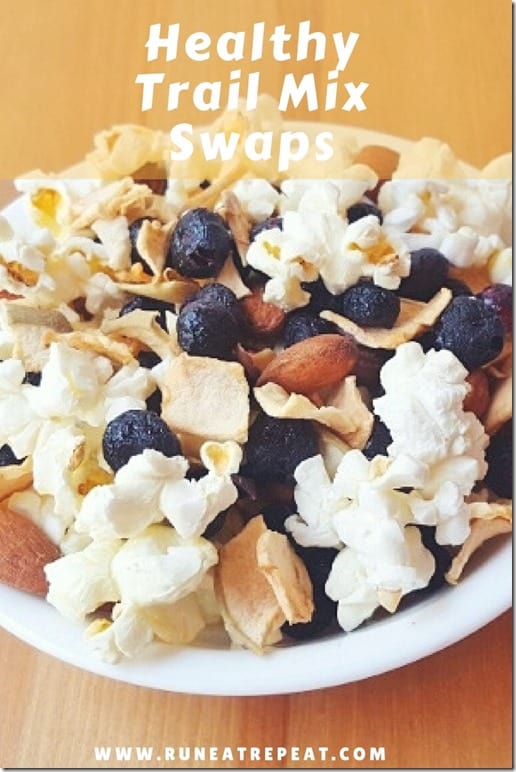 Instead of peanuts – > use almonds. They have more fiber and still provide healthy fats to keep you satiated longer.
Instead of dried fruit –> use freeze dried or fresh fruit. Freeze dried fruit takes up more room in your mix but provides the same vitamins and fiber as dried fruit. I just discovered freeze dried blueberries – they are amazing!
If you're going to eat the mix soon you can use berries or a freshly sliced pear or apple.
Instead of candy –> use apple chips or another sweet and crunchy fruit.
If you can't skip the candy –> use mini-dark chocolate chips instead of M&Ms type. And watch portion size, try to limit it to 1 Tb. per serving.
Pro tip: Use popcorn or whole grain cereal to bulk up the mix! These choices are relatively low in calories but pack a big serving size.
The best part of a snack mix like this is – you get to pick what you like and make healthy swaps that work with your taste buds.
Use your favorite whole grain cereal, fruit, nuts… and portion control it in baggies or small tupperware container.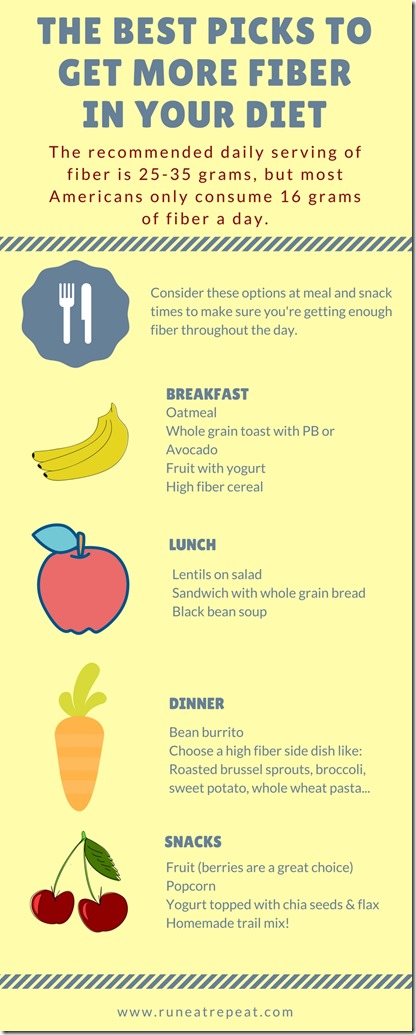 For more information on Fiber – why you need it, what foods have it and more… check out the Fiber.org website.
Question: What are you snacking on today?
This post is in partnership is Fiber.org. All opinions are my own.