Happy Tuesday! How's it going?
Yesterday I got my nails done and traumatized the nail lady with the cut on my knee and road rash on my leg. Somehow it looks worse than before because it opens again every time I sit down/get up. (Decided to spare you a picture because some of you might be in a public place reading this and don't want to barf.)
Her reaction was kinds dramatic, "OH NO! What happened?!" I wish I had a better story than just, "I fell…"
Instead of a picture of my open wound here's my bubble bath by OPI:
(RunEatRepeat Instagram)
Addicted to Running?
Someone (who probably was trying to drop a hint) sent me this article:
The Seduction of Addiction: One Runner's Confession
It's a lengthy article on whether or not someone can be addicted to running – but from a runner's point of view.
The writer/runner shares how he used to run a few miles, then trained for a race and ran more. Now he needs more and more miles to feel the same satisfaction. It takes more to get (runner's) high I guess – I totally get it.
He goes on to say:
"Two weeks ago I woke up feeling a little under the weather, but this condition didn't keep me from leaving the house at 4:45 a.m. in rainy, 38-degree weather to cover 11 miles with hill intervals worked in for good measure. It was really never a choice. I wouldn't have considered doing anything else. When I finally made it back home I felt like death, immediately came down with a high fever, and was confined to bed for three days. This was, I had to admit it, a self-inflicted flu." – James McWilliams
That might sound f-ed up to someone who doesn't run, but many of you have probably ran or exercised through illness because you 'had to' because you were able to justify it in your head.
The big question is – do you think you can (or are) addicted to running?
I have joked and being addicted to running in the past, but never really thought I was. I can quit any time!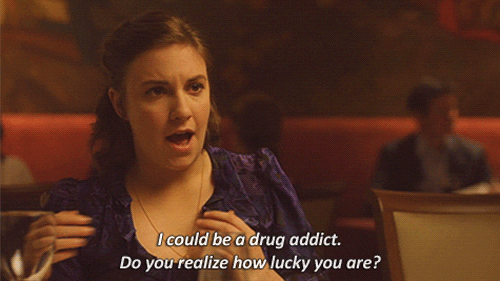 I do think if I am addicted, the benefits outweigh the side-effects. It's like a pill for a my depression/anxiety/worries/loneliness – it's better to have a little bit too much running than no running at all.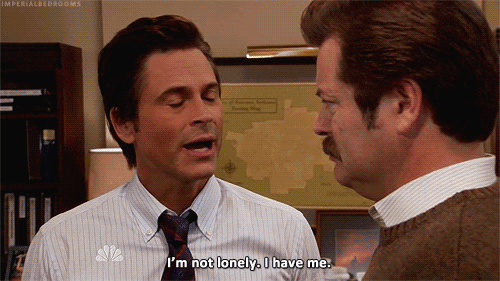 I have some tiny suspicions have might have an addictive personality. But running is a healthy addiction. If I am going to be addicted to something, this is the way to go, right?
This is why I'm pretty content NOT being Type-A, which I suspect would make an alleged running addiction worse. Aaaand when I tested low for T-3 thyroid my doctor said if it wasn't for running's endorphins I would probably have been pretty depressed. See?! Self care. Boom.
I want to admit that I am trying to increase my weekly mileage because I want a slow build up to training for my ultra in May. And I also admit I am digging that increase so far.
My name is Monica, and I am addicted to running poses.
But if running is wrong. I don't wanna be right.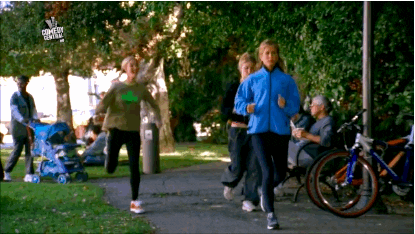 Question: Can someone be addicted to exercise? Are you?