Happy (Meatless) Monday!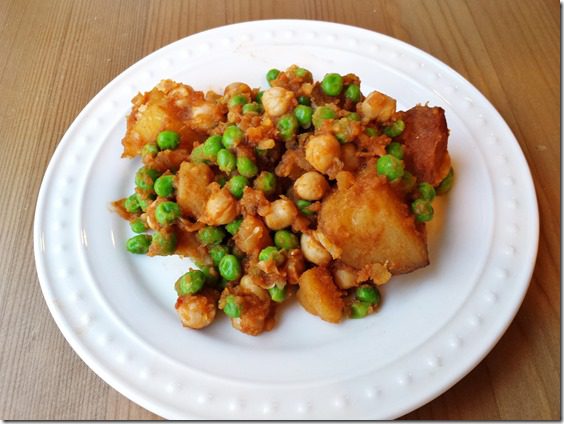 Since California is in a drought right now I have been trying to keep 'Monday meatless' because I've always heard it was better for the environment. I'm worried about the water situation here! But I wanted to be sure, so I did a little research.
(source: Choose Veg)
The hard part is – everyone has an agenda so you should always consider the source before straight up believing something (yes, even when that source is a certain red-headed Mexican blogger coughcough).
(source)
"It takes thousands more liters of water to produce a kilo of beef than to grow the same quantity of grains, vegetables or pulses. Manure, antibiotics and hormones all find their way from livestock farms into our water system, while fish farms release chemicals and parasites that threaten wildlife." – Vegetarian Society
This is a good article from the University of Michigan – Vegetarianism and the Environment
There are tons and tons of resources out there if you want to dig up information to support your preferred cause. I'm just taking it all in for now and passing on some information in case you're doing the meatless thing on Mondays.
I am still on a fact finding mission and I can't eat soy for health reasons so I am not anywhere near a place where I'll be full veg soon. Please do what works for you and I won't judge. I'd appreciate the same.
Onward!
Meatless Monday –
Easy Potato Chickpea Masala
This recipe is another one made possible by the convenience of Trader Joe's. All ya need…
5 small potatoes

1 jar masala sauce

1 can garbanzo beans

1 bag frozen peas

salt, pepper and garlic to taste
Directions: Throw clean, chopped potatoes in crockpot. Cook on low for 3 hours. Add beans and peas. Season with salt, pepper and garlic. Stir and heat for another 20 minutes or until peas are warm (mine was done in 5 because it was so hot). Serve with veggies, naan and/or rice!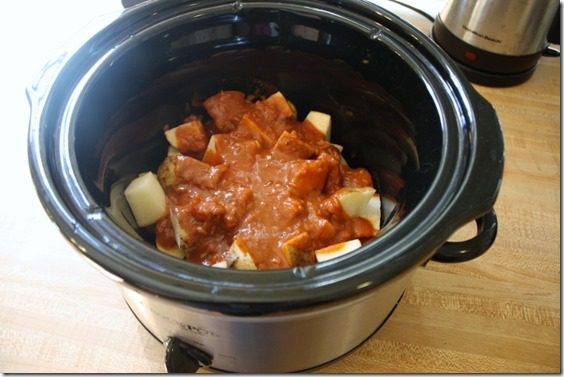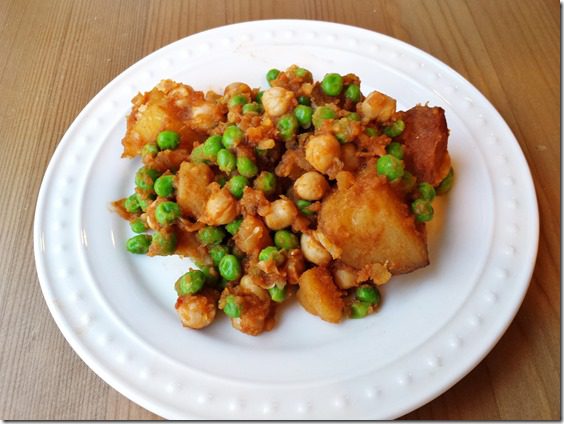 Enjoy! Or if you don't want to cook you can order pizza…
Question: What are you having for dinner?