This weekend is the Barkley Marathons! Have you heard about it? It's kind of a secret. The first rule of The Barkley Marathon is you don't talk about The Barkley Marathons. But, I'm not talking about it I'm writing about it so I think it's okay. Loophole.
Yesterday I watched a documentary about "The Barkley Marathons" aka "The race that eats its young". It just so happened I heard about it last week and had time to watch it this weekend. Before 7 days ago I had never even heard of it. Aaand it just so happened that the race started yesterday too!
So, when the movie was over and I pulled out my laptop to research how I could meet my untimely death in Tennessee (where the race is located, not like I'm randomly going to go to TN to die for other reasons) I found out it had just started that morning!!!  I was able to follow along via twitter.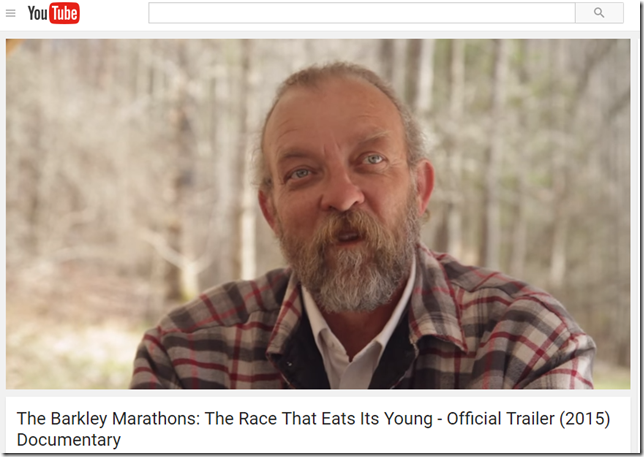 Some things to know about Barkley Marathons (that you didn't hear here just in case I get busted for 'talking' about it because I want to stay in the RD's good graces):
1. The Barkley Marathons is an ultra race of 5x 20 mile loops, hence the name marathonS. But the actual distance of the course isn't known since runners cannot wear GPS watches. Many estimate it's 5x 26 mile loops.
2. It is a very very difficult trail race with elevation gains and losses that are equal to climbing Mt. Everest TWICE.
3. The race began in 1986 and as of the 2015 race only 14 runners have ever finished. That means many years no one finished it!
4. There is no course support, just 2 spots where they leave water out. So you have to carry all the water and fuel you need for each loop. One loop can take upwards of 12 hours.
5. In addition to the $1.60 entrance fee runners must write an essay on why they should be chosen to run.
Every year the Race Director chooses one person to be the 'human sacrifice'. That person is one that basically 'has no business being out there'. They come back to the start heart in hand, holding back tears and I think the RD likes that.
That sacrifice spot is also the only way I'd ever get in so I can at least appreciate the need for it.
If you ignored all of this just know… I liked the movie. And I like running. So there is a teeny tiny part of me that would want to do it, at least in theory.
Speaking of having a death wish…
I think I may finally be an adult.
This theory is supported by the following:
I worked on my taxes today. This is the first time someone else hasn't done them for me.
I would be super proud of myself except, it sucked. I'm not a numbers person. Or a details person. Or a person who likes to be responsible and keep track of bills and stuff.
Being an adult doesn't really come naturally to me. So after a full day of tax junk and holding back tears I'm now laying on the floor doing nothing. It's nice.
Luckily, "Help is here"!
(For this at Target)
I owe taxes so I'm considering selling a kidney. I heard they can get you a pretty penny. And I'm sure my kidneys are super healthy because I drink a lot of water and try to take vitamins and stuff. Plus I figure one of my kidneys must weigh at least 3 pounds (they're big because I drink so much water and they work hard). So I'd get money and lose 3 pounds. Double win!
Question: Should I apply to that race or just lay here forever?