Happy Thursday! I spent last night on the couch watching Knotting Hill and other random TV so let's back up to yesterday…
Before my afternoon shift I had a pumpkin yogurt parfait. Yep, right in the container because I'm lazy like that.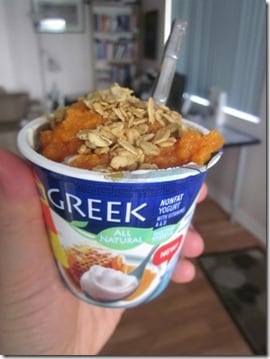 Then, I trained one client and came home to make dinner. I considered doing a 2nd run for my RTB training, but it was warm out and I was lazy. Oh well.
I found green beans on sale earlier and based my meal around green bean fries. I ate most of the "Family Size" pack and saved 3 fries for Ben.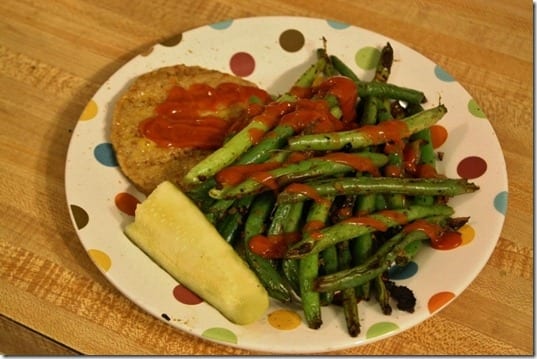 I wanted to be a nice wife and save Ben half my Reese's Peanut Butter cup, but that's just crazy talk. Why are Reese's Peanut Butter eggs / hearts / trees extra delicious?!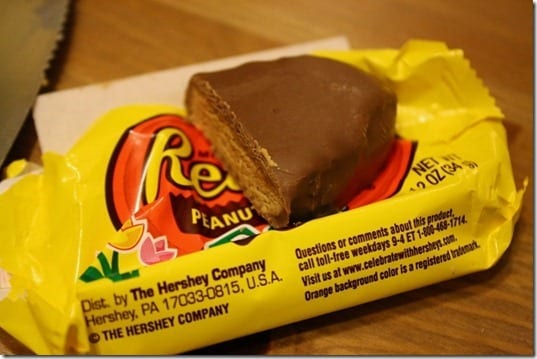 Last night while watching TV I saw the new Nike Free commercial and have decided to run across the country this summer. (Seriously, called my mom and told her to drive along side me and everything. Although, she might have just been humoring me…)
You have to click here to watch it –  I Would Run to You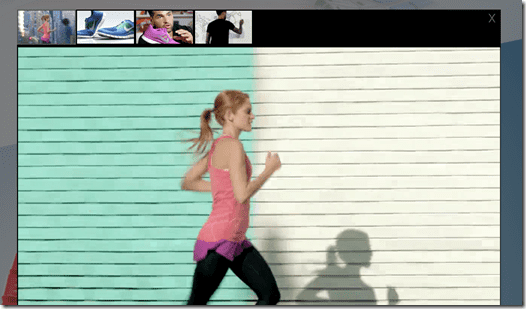 Now to Thursday…
I like to take one day off from running one day midweek and lately it's been Thursday (I always take 1 weekend day off too). So, I took a walk with Ben this morning and will do a strength workout at the gym later
I woke up with one thing on my mind – TOAST. So I had a piece before our walk and then two more with breakfast. At least it wasn't junk.
A few weeks ago a rep from Achiva sent me a bag of Chia Seed & Coconut Water drink mix. I was hesitant because I'm not in love with the taste of most coconut waters, but he swore it was more like Chai than anything else.
Ben and I tried the drink and liked it. It does taste like chai! Yes, the words "chia" and "chai" are very similar so this could be confusing.
This morning I stirred a scoop of the drink mix into Ben's oatmeal and it was really good! Now I want to try it in yogurt.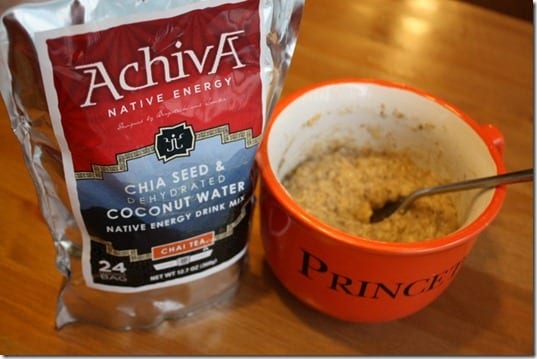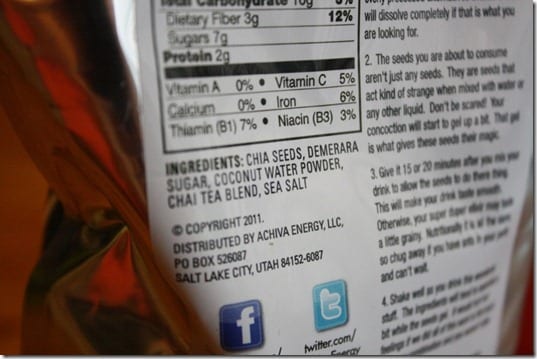 The peeps at Achiva are giving 5 RER readers a bag of the stuff.
To Enter: Leave a comment answer one of the following –
1. What did you have for breakfast?
2. Can I stay at your house as a pit stop when I run across the country this summer?
Contest ends 4/6/12 at 8am PST. Open to residents of the US only.
Winners of the Larabar and Naturebox giveaways are on this post. Please check to see if you won and email me!