Hello! How's it going? I've been busy at the IDEA World Fitness Convention. This year they also had Fitness BlogFest along side IDEA – it was packed with information sessions and workouts specifically for fitness bloggers!
On Friday I was on the "Bloggers Tell All" panel with PB Fingers and Fitnessista.
I wasn't sure what to expect since "bloggers tell all" is a pretty mysterious, but intriguing title! But, we kept it pretty tame. Katy Widrick was the moderator and started by asking us what's the best thing that has come out of blogging for each of us.
From there we covered a lot of bases…
– What are some of your favorite apps or plugins for blogging?
A: I don't remember who said what, but it included… PicMonkey, Google Analytics, Canva and Windows Live Writer or Mars Edit (depending on if you're a PC or Mac peep).
– Do you think someone just starting now can grow their blog into a full time job.
A: (I took this one.) Yes. There are billions of people on the internet – there is an audience out there that wants great content! It's important to remember we (the girls on the panel) spent a few years growing our blogs to a place that made money, so it didn't happen overnight. But if you are willing to put in the work and time it can totally grow.
– What percentage of your income comes from ads, what comes from sponsored posts?
A: I actually have a post coming up on this because 'how do you make money' is the question I get most often.
– What does a day in the life of a blogger looks like?
A: We all described our days pretty briefly. Julie is house hunting right now so that takes up a lot of her time. Gina has an adorable little girl and balances that with teaching. I run and eat and then blog. I actually have a schedule for the hours of 8:30am to 6pm Monday through Friday to help keep me on track. I am super unorganized and this helps me stay on top of deadlines and things.
After our session I walked around the expo and saw Billy Blanks! Hello, this is awesome. Apparently he's opening a new studio in Dana Point – that's super close to me!!
Dinner was all the girls piled into one room for room service. It was like an epic slumber party.
Then, it was time to shut it down.
And I headed to my room to 'relax'…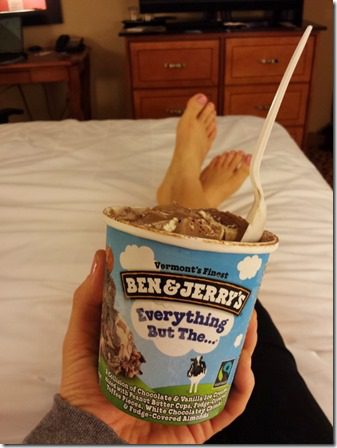 I really had a BLAST at IDEA World this year. And I'm super inspired to keep chugging along on RER and share my journey and tips and everything in between with you guys. I love it.
Question: What is the best part of your job or school right now?