Happy Thursday!
This morning I woke up to a dead Garmin – dead because it's old, I charged it all night. I know it's on it's last legs so I wasn't surprised – just frustrated. My MotoActv wasn't charged so I ran without a watch or music. Just me. Luckily, I'm used to it since SR never wants to run with me even though she
A.) lives down the street and B.) enjoys running (or so I've heard)
Kidding. I wouldn't be able to keep up with her if I was driving alongside.
I did about 8 miles, but we'll never really know with the official word from Garmino. It will remain one of life's great mysteries kinda like Cleopatra.
Or not at all like that.
A few weeks ago I let you know that this low sodium bread is no bueno.
Well, it's great as French Toast because it's so dry and can hold up to a dip in the egg batter.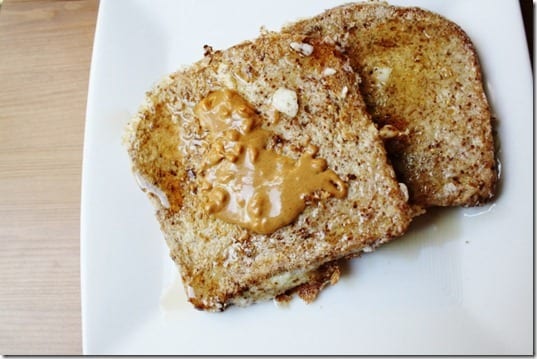 The Reach the Beach relay was the time.of.my.life and I would love to do another relay. Good news for fellow relay lovers – Ragnar Relay is giving away 3 Travelocity gift cards worth $300, $200 and $100 on Facebook.
Head on over to our Facebook page and enter into the sweepstakes today. You can enter each day (1x per 24 hrs). The sweepstakes is open until Aug 22.
https://www.facebook.com/TheRagnarRelaySeries?v=app_364041783617057
And after you've checked out that, head over to the ING Runner Nation Facebook page and check out the latest videos!
This week I'm featured in a Marathon Hydration video
There are a lot of other videos up on their page here