Hello! How are you? How was your week? Mine was good, fairly productive and happy. But for some reason I woke up at 4am this morning wide-the-hell-awake. I knew I wasn't going to fall back asleep (I tried for about 30 minutes) and decided to drag my sad carcass out of bed and get started on work. I was super efficient and got a lot done before 7am!!
I woke up hungry and started my day with iced coffee and tons of almond butter and a frozen waffle. So good.
Then, I decided  to make breakfast and get in a strength workout. Gluten free pancakes…
Kettlebell and free weights thrown around for a little bit. I decided to do a AMRAP style workout so I didn't have to count and could zone out to TV until I was tired.
Vegas didn't have the same early wake up call as me and stayed in bed until around 4pm.  He has the best job.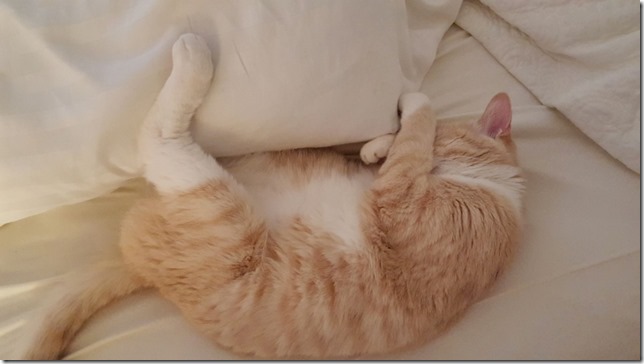 Since I was so productive this morning I decided to use the afternoon to run some errands. I am starting to make a packing list for Jerusalem and hit up the store for some toiletries and random travel necessities.
I also got some pore strips because I feel like I need it, plus they're kinda fun right?!
Easy Healthy Dinner Idea
So, Cindy is done with her Advocare Challenge and did AMAZING!!! But we're waiting to share her thoughts on it (she's a little busy with kids and work and all that jazz). Stay tuned for her results.
Cindy, my cousin Rochelle and I have an on-going group text about everything and anything. Last night they asked me to share healthy food and recipe ideas that are EASY for people who don't really love to cook (or aren't super good at it). So tonight's dinner is one I wanted to post so they could peek at it.
Ingredients: Boneless skinless chicken tenders (bought frozen and thawed in fridge), Seasonings (garlic, salt & pepper, 21 seasoning blend), Zucchini, Spaghetti Sauce, Parmesan Cheese.
Got this pack from Trader Joe's…
I cooked the chicken tenders in a covered pan on the stove over medium and seasoned to taste. I put a lot of garlic, S&P and whatever other seasonings I am feeling. Tonight the season of choice was a no-salt 21 season blend.
In a separate pan I cooked up the zucchini noodles. If you don't have a spiralizer you can just chop and sauté the zucchini. Season to taste same as chicken. Or use whole wheat noodles or rice noodles if you're gluten free.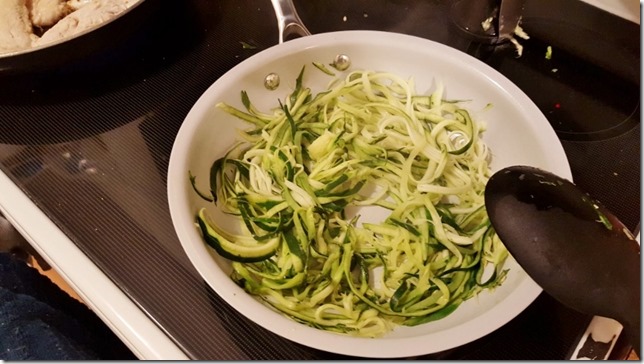 Serve with spaghetti sauce and top with parmesan cheese.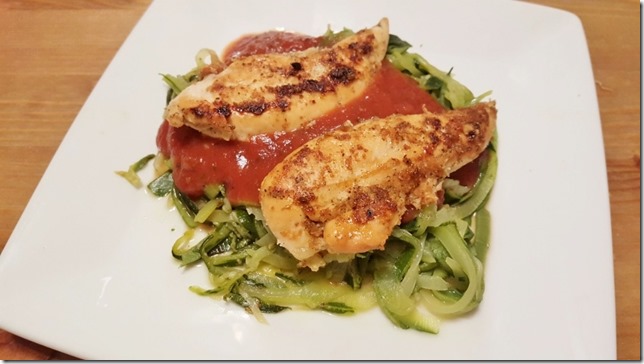 Question: What time did you wake up today?