Hello!! I went to Yogurtland this weekend and it's completely different from how it was before the pandemic. I'm sharing the experience and my thoughts on how safe and clean this self-serve fro-yo situation felt.
I think this is my first time getting YL in months! I used to be a regular customer. In fact I think I'm personally responsible for making my local fro-yo shop the #1 top selling location in America!!
Anyway.
Let's talk about the NEW Yogurtland experience, or at least my local YL. It might be different where you live so for reference, here's some relevant info:
This particular Yogurtland is in Irvine, CA (I'm not sure if other locations will have the same rules)
There's a state-wide order in CA that masks are required to be worn 'Inside or in line to enter any indoor public space'
Everyone around here seems to be complying with the order (I haven't seen anyone refuse to wear a mask)
But beyond the rule to wear a mask it seemed like Yogurtland was very thorough in the effort to keep people social distance apart and avoid the spread of germs.
Ben and I went to YL on his special birthday request. We went right after a walk and had Diego my big ol' golden retriever with us. So we took turns going into the shop. I waited outside with Diego first. Diego's a very attentive lil waiter.
There were stickers on the floor reminding us to stay 6 feet apart. I didn't end up staying 6 feet apart from everyone the whole time because the kids in front of me came back to get another glove and then get another kind of fro-yo they'd passed. I don't think it's a big deal since we were all wearing masks, just noting it.
Then, it was my turn! I snapped a few pictures before I got to the hand sanitizing station. But after that I didn't want to touch my phone again until I left the store to be respectful of their efforts.
New Yogurtland Rules in Orange County
There was hand sanitizer and food service gloves before you get your cup. Then, the step of getting a cup and filling it with fro-yo is basically the same as usual – self serve.
But the toppings bar is different. Now there is a clear wall blocking the toppings – kind of like at Subway sandwiches. The employee asked if I wanted toppings and I handed her my cup. Then, I just pointed out the toppings I want and she did it.
The toppings bar is probably my favorite part of self-serve fro-yo, so this was the only drawback of the situation. I didn't want to be extra and ask her for the super specific amount of each topping and where exactly it should be placed on the fro-yo. Besides sometimes I decide as the toppings spoon is making it's way to my cup and I couldn't properly communicate that at the time. [Yes, I know I need to address this in therapy – but it's way down on the list.]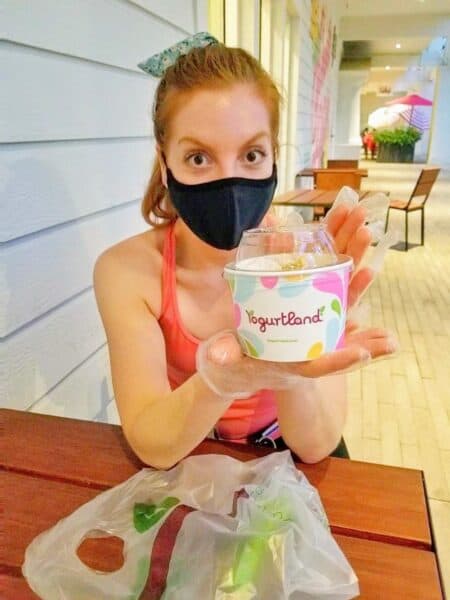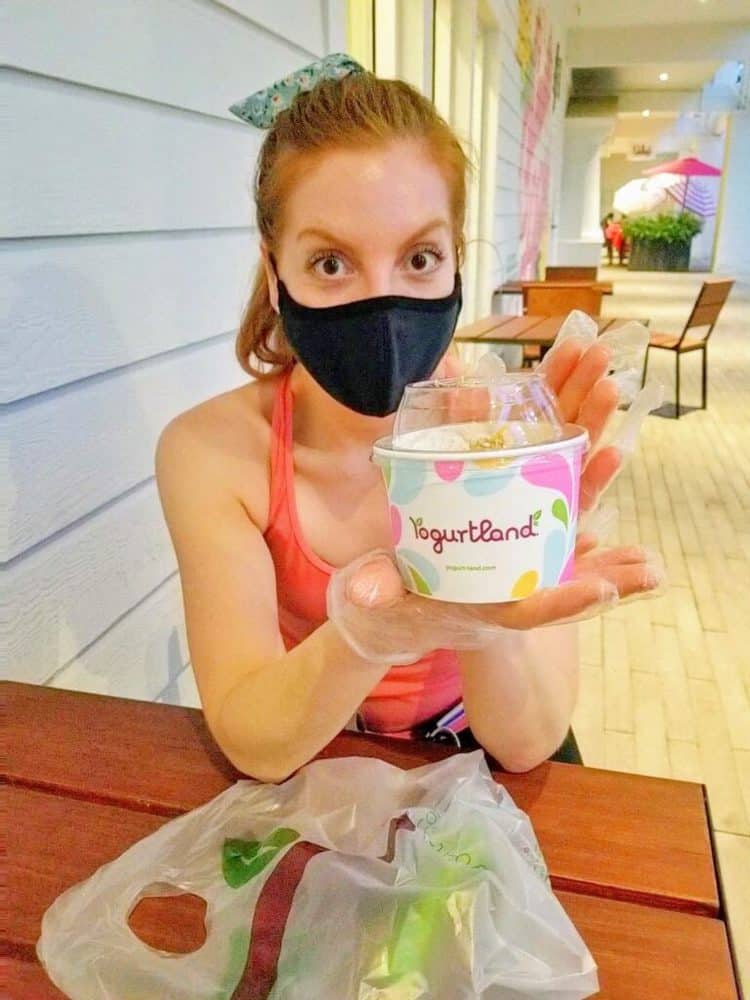 Self Serve Frozen Yogurt Overall Thoughts
Overall: I feel like this Yogurtland location was very thorough in it's efforts to keep it's employees and customers safe.
It seems like a big production when I'm writing it out, but in real life it was just the added step of hand sanitizer and gloves.
And the toppings bar no longer being self-serve is a bummer, but I wouldn't feel comfortable digging into any buffet style food situation right now. It's better to err on the side of caution with things like this and look forward to the days when we can pile 7 dollars worth of candy on our fro-yo like the good ol' days!! (The bulk bins at the grocery store aren't self-serve right now and have been portioned out.)
I'd definitely recommend YL, at least this location when I visited – to family or friends who were looking for a treat.
Question: When was the last time you went to an ice cream or fro-yo shop?