It's been a long time since Ben and I were on a cross country drive. More specifically, it has been a year.
A year ago today Ben and I were in Yellowstone National Park. You can read the recap here.
It's also been a long time since I've binged – well, it was a long time previous to today. The stress and exhaustion of long days and long drives finally got to me and I cracked.
When I was very restrictive in college I would have similarly long days. I would go to class in the morning and then work and not get home until 9pm or so. I didn't pack a lot of food because "I was on a diet".
Then, I would rush home every night and tear apart the kitchen like a starving person. Well, I kinda was starving myself all day.
I would look at my kitchen at home as a place of comfort, safety and love. Even though I don't starve myself all day now, I still see my kitchen like that.
I look forward to getting to that place of comfort every day. It doesn't matter if I'm running an errand, going to a party or working – I rush home to get to food.
This is one of the deepest scars of my disordered eating past. I cannot seem to just come home like a normal person, eat a snack or meal and then walk away. Once I am in that place I can't stop.
I need to take myself out of the situation all together. I'm not sure how I can do that, but I'm working on that.
Whew, I just spilled my guts. That was embarrassing, but honest.
My afternoon snacks were like treats. I was in a rush thing morning (big surprise, I know) so I dumped a bunch of random things in my bag. In my defense, the Vitatop only has 9g of sugar.
These Greek yogurts have significantly more sugar, but I am hoping the protein balances it out.
After work I took a short walk and stalled for an hour and a half before I could pick up Ben and trek home 40 miles. Not exaggerating, but not complaining either.
When I got home I made a quick taco salad with "the works" – lettuce, salsa, carrots, beans, potatoes, soy cheese, avocado, chips…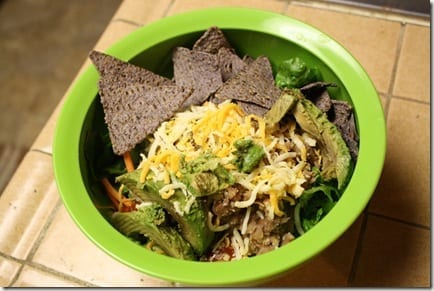 And then had watermelon as dessert in an effort to fend off a binge that failed. Boo.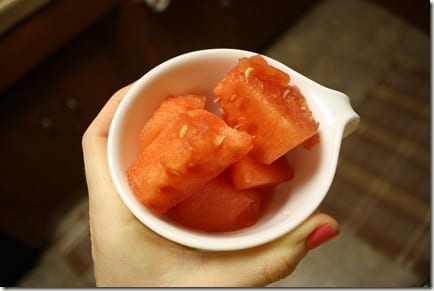 I loved all your comments on my last post. ONE word to describe how you eat:
– Reactive
– Balanced (a lot of these)
– Unprocessed
– Evolving
– Flexible
– Intentional
– Fuel
– Open-minded
– Ground
– Unconventional
– Excessive 🙂
– Cheap
– Discretionary
– Situational
– Experimental
– Eclectic
– Boring
– Whole
– Clean
– Protein (this one is from Ben)