How do you describe your eating style or food philosophy? I find that I am often in situations where it's obvious that I eat differently from the people around me and I say different things depending on my mood.
Today I am "Eccentric" 🙂
My response was greeted with a smile and it was a non-issue. Smooth sailing that time!
Run – This morning I did a tempo run with a 1 mile warm up, 3 miles tempo at around 8:31/mile and 1.5 mile cool down. The tempo miles were supposed to be around 8:09, so I need to speed it up next time!
My breakfast on the go this morning was a piece of Almond Butter toast
and massive smoothie. I used my mom's Starbucks cup, but I need a bigger one.
In the smoothie: ice, protein powder, spinach, water, chia seeds, love
Matt drank the rest that didn't fit in the cup 🙂 He said it wasn't "that green" this time, so he liked it even more.
Mid-morning I snacked on the bed roadside cherries I've ever had. Love cherry season.
Remember when I brought them home Sunday? Happy times.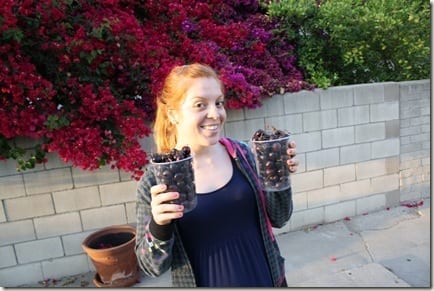 Lunch – My company ordered lunch from Pizza Hut today. I had already packed my lunch, but I wasn't planning on having any because it was the Chicken Alfredo Pasta (and I've decided against the whole chicken/cow/pig thing).
When a co-worker asked if I would be eating it too I said I was "eccentric about that stuff". He and I had already had a conversation about how I don't eat meat yesterday, so he realized what I was talking about and laughed.
I did still have pasta though since I brought a Kashi frozen meal – Pesto Pasta Primavera
The nutritional information is pretty good for a frozie… 290 cals, 11g fat, 7g fiber, 11g protein
Frozen meals must be plated for maximum satisfaction, even if it's on a paper plate in a lunch room. Actually, especially if it's in a lunch room! I need to bring some cute dishes to work for pretty blogging.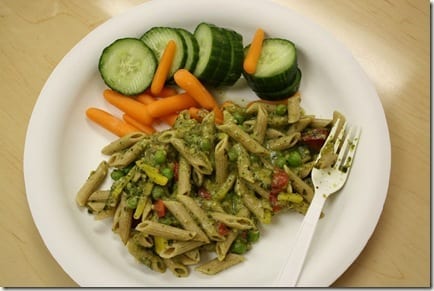 Up close and personal with my pasta –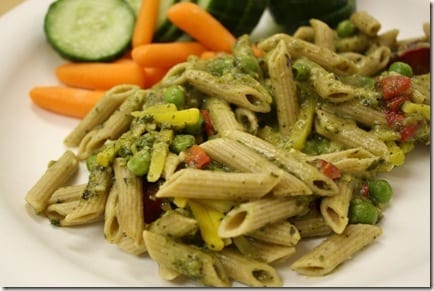 And a Vitamin Water that I was supposed to save for later, but failed.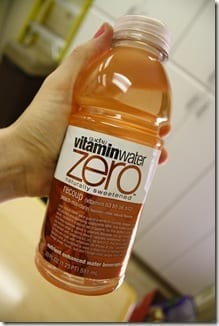 Since lunch is just over 300 cals I may add a Vitatop in there so it'll keep me full for a few hours.
Question: Besides "Healthy" what is ONE word to describe your food philosophy or eating style?