Today Ben and I did Day 2 / Week 2 of his C25K training. I felt happy to have a running partner this morning because a jogger was attacked Tuesday night around my neighborhood.
Local warning: A female jogger was pushed into the bushes on Alicia Parkway in Laguna Hills around 7pm. If you want the full story or to see a sketch of the attacker please click here.
Just a reminder to be extra careful while running alone.
Safe Running Tips:
1. Run in a well lit, high traffic area. Don't be alone in desolate places.
2. Carry Pepper spray.
2 1/2. Know how to use the Pepper spray.
3. Make sure someone knows where you are going and when you should be back.
4. Keep the volume on your head phones low so you can hear someone coming up one you. Better yet, don't use them in the dark.
5. Scream and fight if you are ever attacked. The jogger that was assaulted Tuesday was able to get away because she fought and refused to let the attacker move her to a more desolate area.
6. Find a running group or run with your dog.
7. Trust your gut. If you have a bad feeling about a place or person when you're running – get away.
Please pass these tips on to fellow outdoors exercisers. And add your own safety tips in the comments.
Post 2 mile walk/run I made an egg scramble for breakfast. Steamy!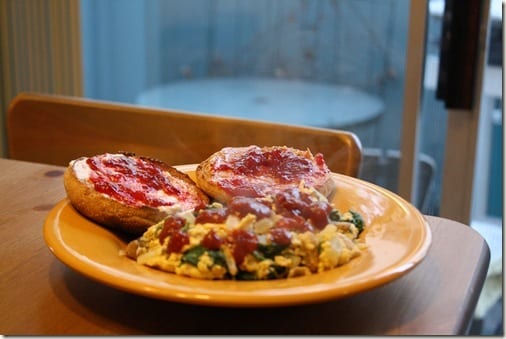 I was going to make a sandwich, but I didn't put enough eggs in and it wouldn't stay together.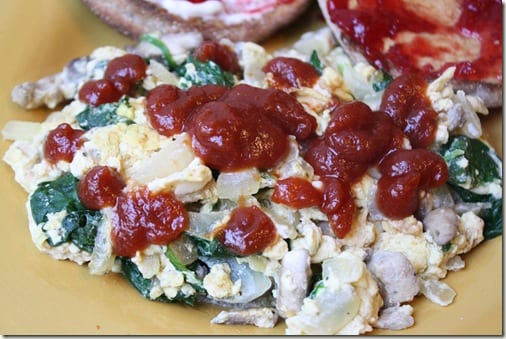 But that's fine because I was able to slather my english muffin with PB&J and cream cheese and jam. So.good.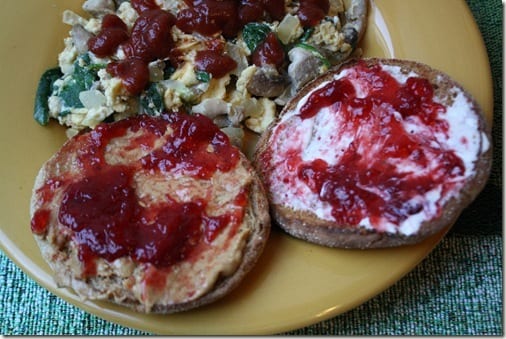 LOVE this meal, plus it's BFL friendly! Win win. Win.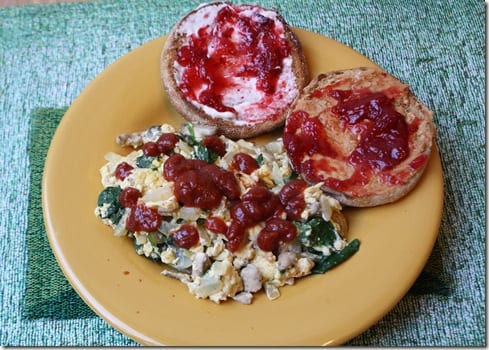 Please add your own safety tips in the comments.