I can't even call this an Everything-But-The-Kitchen-Sink Salad because I'm pretty sure that ended up in here somewhere under the lettuce too!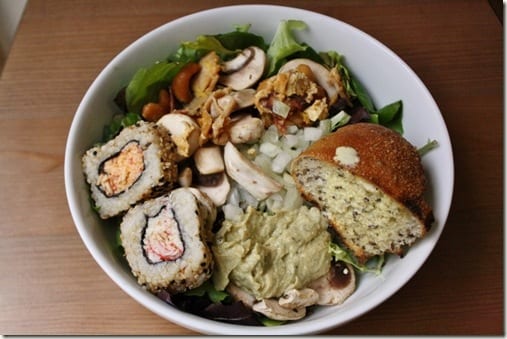 I picked up some brown rice sushi from Trader Joes because I was shopping hungry and decided that would make a good salad topping. Well, that or I was too lazy to dirty another plate? You decide.
Recently I was thinking about how I always ATTACK the bread bowl at restaurants and parties. I think part of it is because I don't have good bread at home.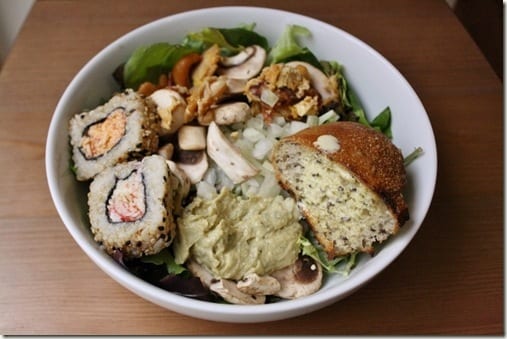 This is seeded flax ciabatta. It's amazing. Life is too short to eat bad bread.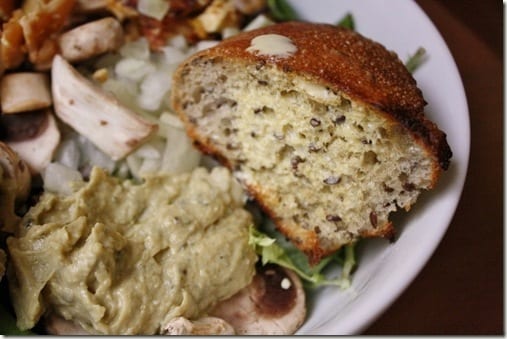 I also topped my salad with some of Ben's random egg and turkey stir-fry. Oh, and he put a ton of cashews in it. He is not exactly winning Top Chef next season, but it was good.
Despite my bucket of sushi filled salad, I was hungry an hour later. I wanted a killer snack.
I made up a Killer Protein Cake recipe because I was too lazy to look up my past one.
Killer Cake in a mug Recipe
In a sprayed coffee mug:
1/3 c egg whites
2 Tb. whole wheat pastry flour
packet Stevia (or sweetener of your choice)
dash salt, cinnamon, baking soda, baking powder
Stir and microwave for 1 1/2 minutes or until firm. Gently slide out of mug.
I flipped it on a plate and spread it with a PB and chocolate chip "frosting".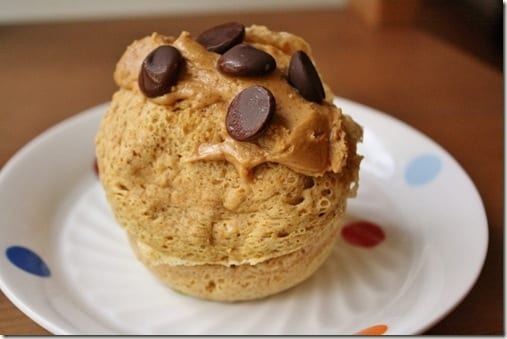 Hope you're having a good day!