Hello! How's it going? I am exhausted. But I had a fun weekend, so I guess that's the price you pay! Totally worth it
Check out my LA Marathon Results / Recap post for more!
Yesterday right after the marathon I headed up to my room for an ice bath situation and a smoothie.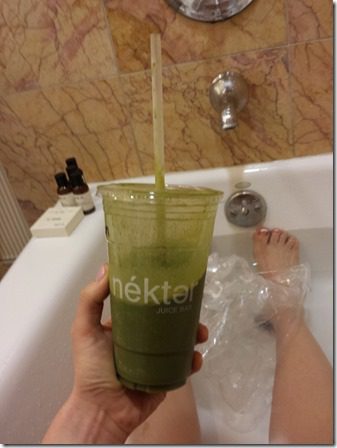 I also grabbed some food from the fancy VIP tent for after…
Then, I just hung out for a bit relaxing and watching the other runners walking down the street after the marathon. I was going to head back out to cheer but felt like I had more than enough sun and needed to hang back and rehydrate.
I know 99.6% of LA Marathon Recaps will talk about the heat – yes it was very hot, especially for distance running! But, we've had a warm 'winter' down here so it wasn't as shocking to my body as others that came from the east. Plus, I really went into the race with the mindset that Sunday was NOT the day to push myself since it was so hot. So, I think being relaxed and unambitious about it helped for once. Go Type C personality!
Finally I rallied to take a walk down to the water. My medal wanted to see the ocean. Photo-bombed by a bird!! I actually got a few better pics than this, but I think it's funny.
I shared this on Instagram but in case you don't follow me there…
Rule #3 of Running/Racing: Wear your race medal for the rest of the day! Hey, it's the only day you're going to wear it, so sport it proud!
It was interesting to see the street where the marathon finished just an hours later, so empty and sad like my tiny black heart…
After a short walk to the Pacific I met back up with the group for dinner at BOA in Santa Monica. Coach Andrew and Deena Kastor joined us too! It was awesome to sit by Deena and chat about everything from running to pets to the getting the flu. I adore her (but tried to play it cool obviously).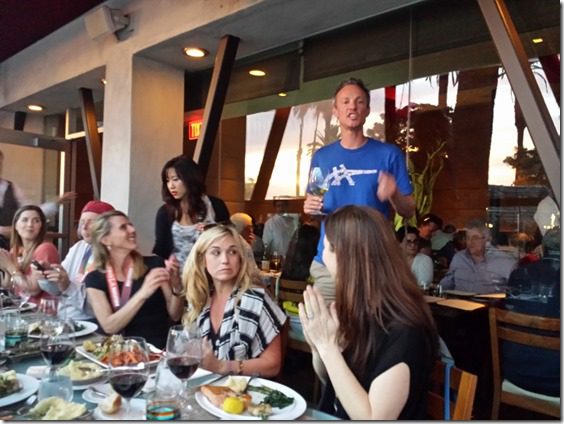 It was so nice to have the race behind us and just enjoy the gorgeous weather and each other's company. I met Running Rachel for the first time this weekend…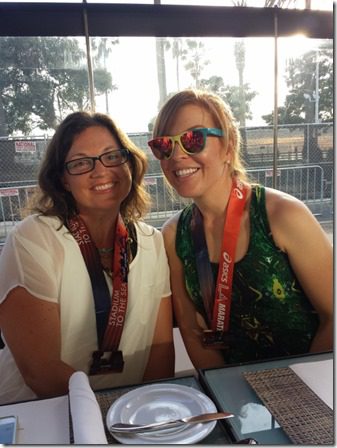 and here is my southern neighbor StuftMama…
It was one of those meals where your wine glass is never empty so you think you're only had one, but suddenly it hits you in the best way. Feel me?
Dinner started with a wedge salad…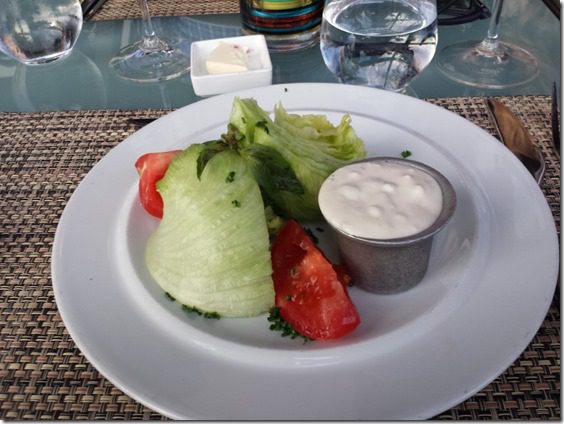 If salmon is on the menu, I'm getting it…
Mashed potatoes.
Dessert!
After dessert they brought out freshly made cotton candy and sparklers!! How fun is that?!?!?
After dinner it was time to say good-bye…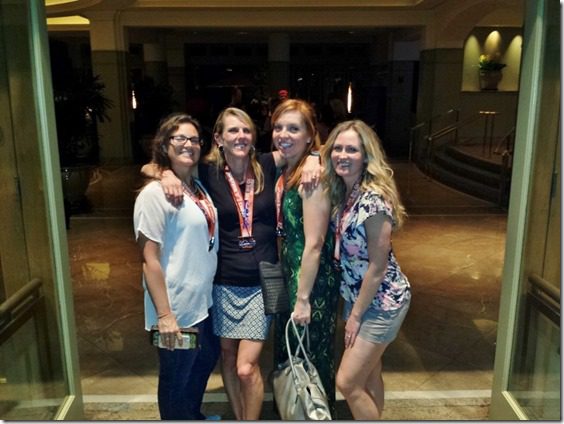 Boo. Anne and I go way back, hopefully we'll hang out again soon!!
This morning I woke up at 4:30am. wtf.
I was going to go back to sleep, but figured I should try and beat the LA traffic and get home. So, I packed and reluctantly left the hotel…
Luckily, I totally missed all the traffic and was home in an hour flat. Score!
Now I'm talking to you nice people and avoiding my email.
I'll see you in a bit!
Question: When was the last time you had cotton candy?
We were all talking about it when it came out – years and years ago!!