Hello!!! Last night I walked around a bit in Santa Monica. I should have been resting, but I was in search of carbs!
I came prepared with my own hot sauce to douse them in…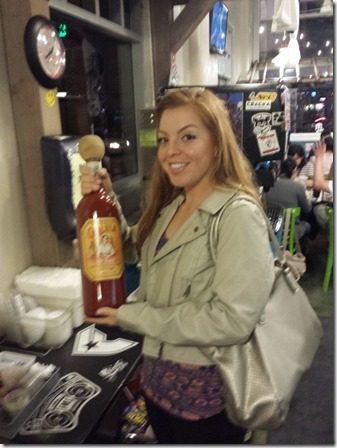 I ended up at Wahoo's Fish Tacos.
Nothing new, but safe I guess?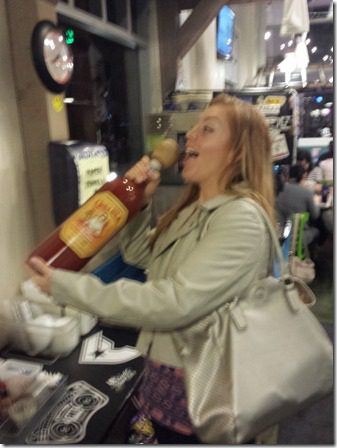 LA Marathon Race Morning – starting line
This morning my wake-up call was 4:06am, but with the time change it felt like 3:06am. It was ROUGH.
Thanks to Asics we had a bus to the start from the hotel and access to the VIP area pre-race at Dodgers Stadium.
It was fancy and I was just hoping they didn't kick me out.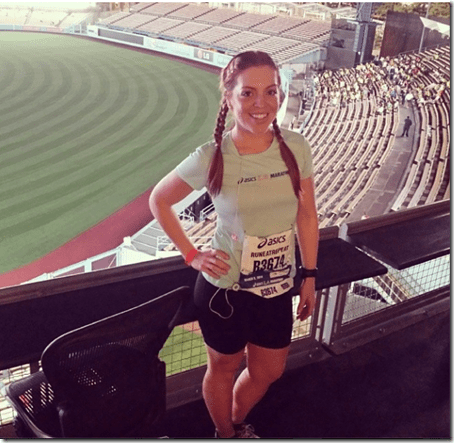 After a quick breakfast and bathroom break it was time to line up at the start line!
Gorgeous Pink Sunrise.
I also met reader Cody and Mary Ann at the start! It was Cody's first race – hope she tells us in the comments how it went!!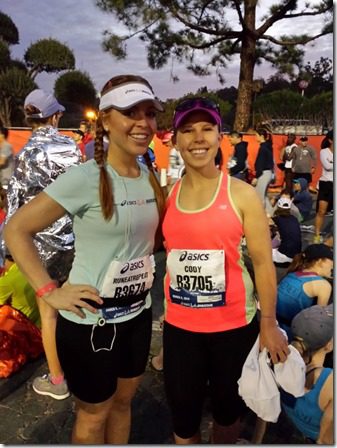 MaryAnn and I met briefly at the Salon Pas event (I think) a few years back!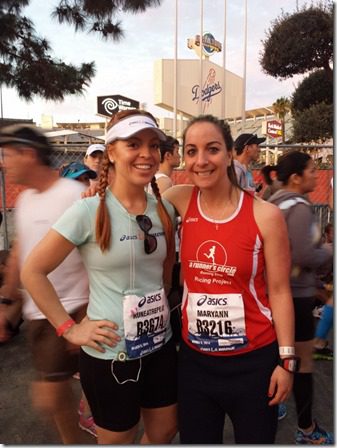 Time to goooooo!!!!
Around Mile 8 I tried to take a video of the Hollywood sign, but my phone wasn't into it.
I did get this picture though!!
It was a HOT day! So I tried to focus on staying hydrated and not getting to crazy.
Unfortunately, I drank my whole water bottle filled with Nuun by mile 12 and made the decision to toss it.
So, now I need a replacement but I didn't want to carry it empty the rest of the way.
Overall: I loved the race!! I dig SoCal and it makes me happy.
LA Marathon Finish Line
LA Marathon Finish in 3:42:34
Then I grabbed some food from the VIP tent and headed to my room for an ice bath. A little smoothie action while I iced.
LA Marathon Bloggers, Influencers and Pro Runners Round Up
I wanted to give a shout-out to the whole running blogger team that ran the race!
These runners and social media super stars are from all around the country. Check out their blogs below!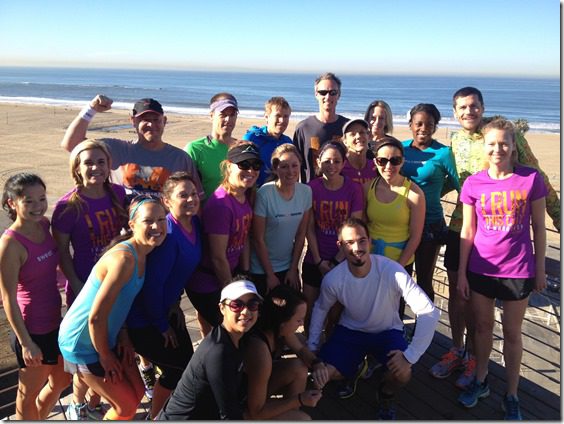 The whole running blogger team:
Anne – Fannetastic Food 
Beth – Shut Up and Run
Brian – Pavement Runner
Rachel – Running Rachel
Kristin – Stuft Mama
Michelle – NYC Running Mama
Jess – Race Pace Wellness
Jamie – Sweat Guru
Mark – Marathonomy
Ryan – Set The Pace Triathlon
Question: What was the BEST thing you did or ate this weekend?