Since I am going to keep the major details on the down low, here are the minor details of my Vegas trip…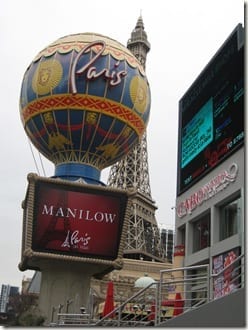 At one point I had to eat half a banana for a game. Don't ask.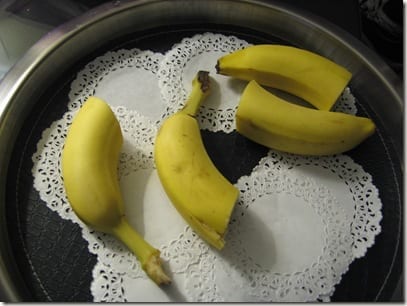 Then, we had some many adult beverages and went out.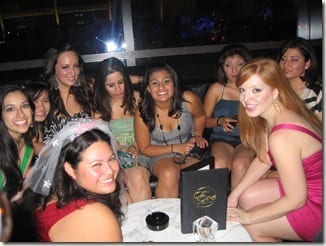 It was good times and I managed to ignore my foot pain (previously mentioned beverages helped).
For some reason we didn't remember to take many pics until the end of the night when we were already sweaty.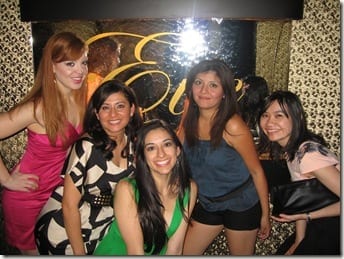 Who is this guy? And why didn't I zoom in on my friends?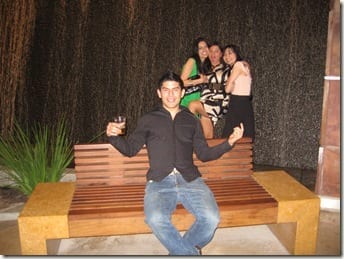 Today we ate at the Grand Lux Cafe at the Venetian before we drove home to CA. Ha, look at this guy waving at the camera! Now you're on the internet buddy, who's funny now? Hehe, I wish I told him to check out the blog 🙂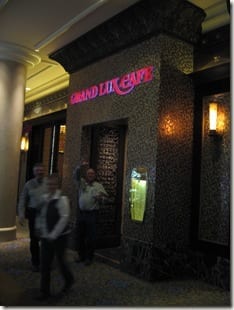 This place reminds me of Cheesecake Factory and has a huge selection on the menu. I finally decided on this salad with tuna.
We started with bread and I ended up eating two pieces.
I also ate one of the sushi rolls Susan ordered as an appetizer. It was okay. I think I just wasn't in a sushi mood?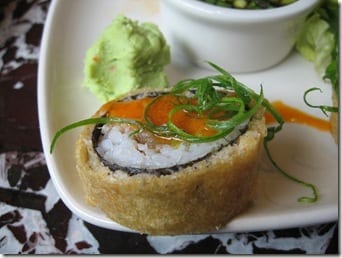 Here is my grand ensalada! It was huge and I loved it (that's what she said).
Susan (who apparently is quite the bad food influence!) got an order of chocolate chip cookies. This dessert comes with 12 freshly baked cookies in a to-go box.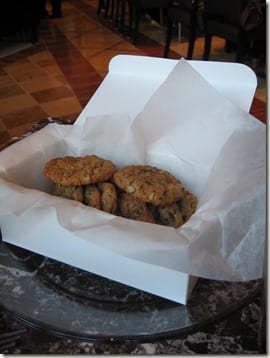 Wow!  Let me just say Susan was right about these being pretty amazing.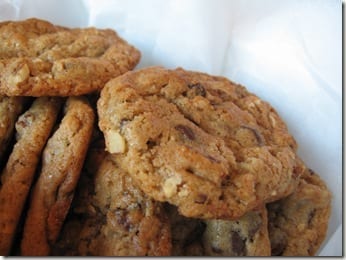 I flew into Las Vegas, but drove back home with a few girls. I realized how much I miss all my good ol' California road trips. You cannot beat this scenery!
I picked up some snacks for the road:
Now I am barely hanging in. I didn't do any exercise today, but my legs feel so tired from dancing last night in heels that I have no business wearing. Until next time Las Vegas…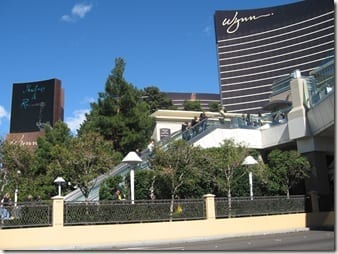 I will miss you…
And so will Susan 🙂
(I don't know why we're smiling here, we both just lost money.)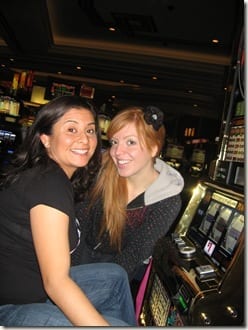 Weekend Food  in Review:
Overall, the weekend was very indulgent. I ate a lot of higher calorie/higher fat foods and drank A LOT. And now I'm at my mom's where I can often over-indulge as well. So, the plan is to:
1. Walk every day and do hip exercises and abs
2. No sweets and no eating after dinner
3. Only whole foods for snacks
But – I am not going to beat myself up about the weekend either. I really only drink a lot for special occasions. And I do feel like most of my eats were consumed when I was hungry (there was some drunk munching in there too though).
Oh well. I had a blast and girls weekends don't happen very often!