I cannot believe it is already March! This year is really flying by.
Now it's time for my March Challenge. For my New Year's Resolution I said I was going to make 2010 the Healthiest Year yet and make one healthy change each month.
January – Meatless Mondays
February – No Eating after dinner
Feb Recap: I have made progress on not eating after dinner, but it wasn't a complete success. This is still a habit I am working on, but February's challenge did keep me from snacking after dinner every night. I am very happy I am getting better.
March Challenge – This month I've decided to do one food and one fitness challenge.
Food Challenge – No eating after dinner: I'm going to continue to work on this habit. I'm not giving up yet 🙂
Fitness Challenge – Monica's 30 Day Shred: I have put together a list of simple exercises I will do each morning. It is basically sit-ups, push-ups, leg lifts, squats and arm exercises. They are all easy things I can do by myself before I do anything else. I really need to focus on being a more well rounded athlete and getting stronger. Hopefully, this will help.
This morning my mom and I took an early walk and then I did some of the 30 Day shred exercises and kept stopping to write down what I thought should be included.
Breakfast was a PB Pita Pizza: whole wheat pita spread with PB and sprinkles with cinnamon. Then, top with banana "pepperoni" and enjoy!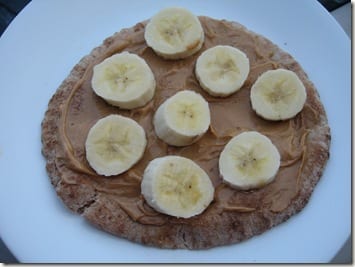 One of the hardest parts about living in MD is that I didn't bring my dog, Roxy. She is the black lab mix on the right (Bailey is my brother's dog).
We made that tough decision after much thought and it was very hard for me. But, living in MD was never meant to be permanent and we knew our small apartment would be very sad compared to the big yard she gets to roam year round in California (that green stuff she's laying on – aka grass is pretty much MIA in MD now). The plan is to make sure we are able to take her wherever we move next though. I can't wait!!
I am so behind on emails and other house keeping stuff – I better get on it!
I'll see you guys later 🙂