Healthy Hash Brown Casserole Recipe –This is a sponsored post written by me on behalf of Potatoes USA. All opinions are 100% mine.
Hello! I have a delicious version of a classic recipe – Hash Brown Casserole to share today. I'm excited to have another potato packed recipe because they're packed with so much goodness to fuel you up.
Potatoes are a great option for a non-processed carbohydrate that's gluten free and very versatile. There are so many different types and ways to prepare them – from mashed to fries to potato lasagna – you can eat them as a base or a side to your meal.
Plus it's a vegetable and has zero fat, sodium or cholesterol. Boom. But it's also what they do have that makes them great – they're packed with fiber, vitamin C, B6 and potassium – a skin on potato has more potassium than a banana. Depending on how you cook it – taters can be the base for a great low calorie fiber packed meal.
Check out these nutrition stats for a medium sized potato…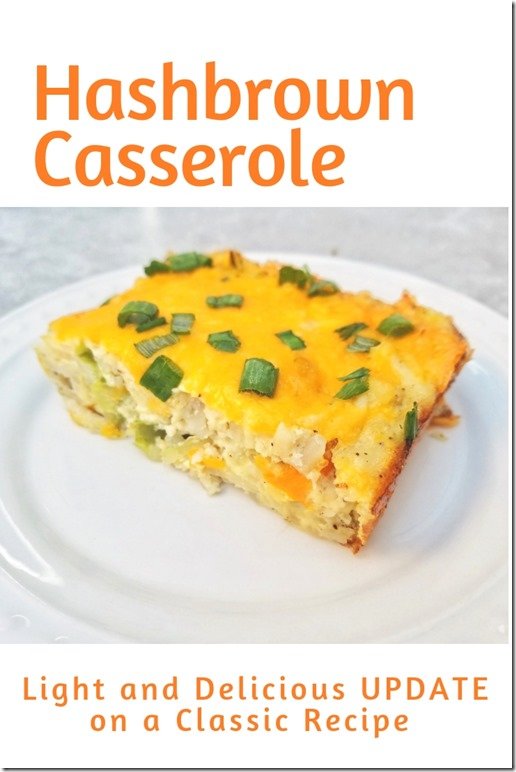 This recipe is good for everyone – kids, adults, runners, eaters, your dog if it falls on the floor…
I tried it for the first time last year at Bible study and it was so good! A friend brought it to our potluck saying it was super easy to make! I asked her what was in it and she listed off potatoes…. butter… sour cream… cheese… sausage… and I immediately wanted to make it at home but – swap some of the ingredients to make lighter version of this dish.
So I simplified it and packed it with veggies. Done and delicious!
This lighter version of the classic hash brown casserole offers carbs – potatoes, protein – eggs, veggies – bell peppers and onions, cheese – dairy (and if you use sharp cheddar it's packed with extra flavor).
Simple ingredients & super delicious! 
Hash brown Casserole Recipe
Light Update on a Classic Breakfast Recipe
Ingredients:
20 oz. shredded potatoes

6 eggs

2 cups egg whites

16 oz frozen bell peppers and onions

1 tsp. each: salt, pepper, garlic powder, dried parsley

1.5 cups shredded cheddar cheese

optional: green onion for top
Directions: Heat oven to 350 degrees.
Place bell pepper / onion mix in a microwave safe bowl and heat for a few minutes until room temperature, drain liquid.
Mix eggs and spices, add shredded potatoes and bell pepper mix. Combine and pour into a greased baking pan. Bake for 30 minutes (until almost set).
Top with cheese and continue baking until set (about 10 to 15 minutes).
Serve topped with green onion (and ketchup or hot sauce if that's your thing).
Enjoy!
You can get more information on the benefits of eating potatoes and how they can fuel you for optimum running performance (or your sport of choice) at their website – PotatoesFuelPerformance.com
And check out my Breakfast Potatoes in the Crockpot Recipe here!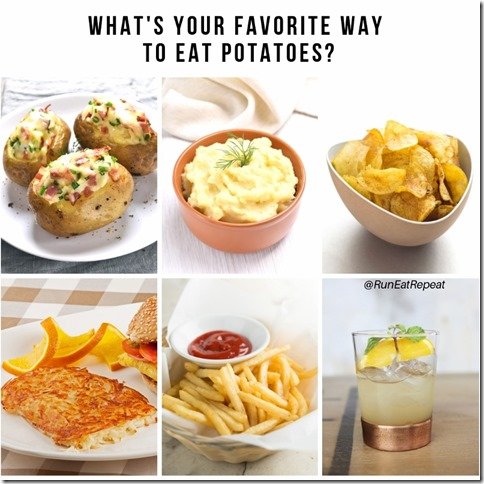 Chime in on this Instagram post with your favorite way to eat potatoes @RunEatRepeat !!
Question: What's your favorite way to eat potatoes?
This post is in partnership with Potatoes USA. All opinions are my own.
#whatareyoueating #potatoesfuelyou @PotatoesFuelPerformance