Podcast: Play in new window | Download
Subscribe: Apple Podcasts | Google Podcasts | Stitcher | RSS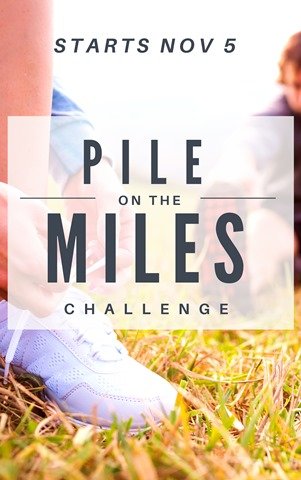 Today I'm sharing the BIG NEW challenge we're doing for Pile on the Miles this year here (click link on your smart phone – not computer) https://runbet.me/runeatrepeat
Plus I have updates on running, eating and life! This might be a quick one…!
Running Challenge November Pile on the Miles
Pile on the Miles starts Nov 5th!!
NEW – This year we're using the Run Bet app to track all the miles!!
Join here (click link on your smart phone – not computer)
https://runbet.me/runeatrepeat
– Stay accountable.
– Get motivated!
– Make friends.
– Pile on the miles – not pounds in November!!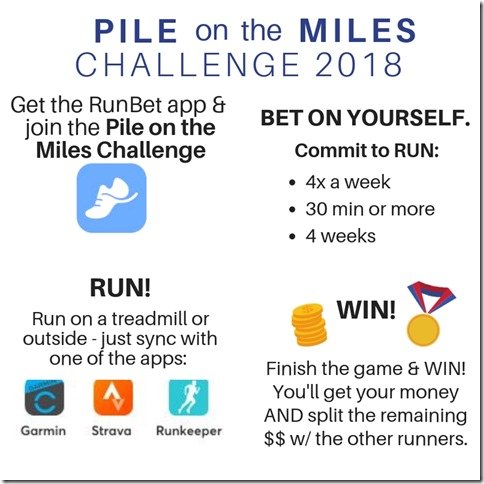 We'll have a private FB group too! I'll be available to answer your running & eating questions.
I'm here to coach, support and help keep you going!
How to Join the Pile on the Miles Challenge:
1. Download the Run Bet App.
2. Sign up for the Pile on the Miles Challenge.
Challenge yourself to run at least 4x a week / 30 minutes.
Nov 5 – Dec 2.
3. Run!
4. WIN and get your money back.
Stick with it and get your money back plus split any extra in the pot!!
(So it's free because you're going to stick with it – right!)
AND – the app tracks everyone's mileage so if you want a lil friendly competition you can try to go for the most miles!!
* BONUS: I'll be giving out prizes for the most miles!! *
Sign up here: (link only works on your phone)
https://runbet.me/runeatrepeat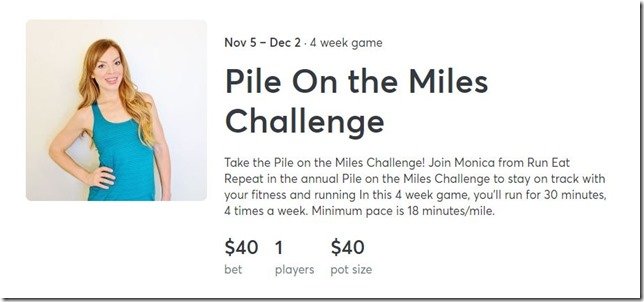 Run Bet Questions and Answers:
1. Can I use my Garmin Connect info on the treadmill? The treadmill I have is a little off with distance and pace.
RunBet:  For any treadmill photos, we do require the treadmill readout and the sweaty selfie.  They can try to use Garmin Connect on the treadmill, but we don't recommend it as the GPS doesn't always work indoors. And I'd hate to see someone try to use GarminConnect only to find out it didn't track properly.
2. Can I walk on the treadmill for 30 min or has to be on the run?? 
RunBet: The player must meet the 18:00/mile pace requirement for this game.  The intention is to get people running and not point out that they can walk and still make the pace requirement.
3. Can I do the run in 2 parts to total 30 minutes for the day? Example – I run a 5K that day but finish in less than 30 minutes… Can I do a separate run to total 30 minutes for the day? 
RunBet: As per the Rules, "All runs must be tracked in one continuous session from start to finish." So we do require the run to be done and completed in one session.
4. Can I do more than 1 run in a day? If I won't have time to run 4 days… could I do 2 runs on 1 day? [Monica added – I'm assuming they'd chop it to start separate runs and NOT do 1 –  run for 60 minutes… but run 30 and start a new workout on their app?? ]
RunBet: Unfortunately, only one run a day can count towards the four runs/week requirement.
5. Can I do it from Canada? 
RunBet:  Anyone, anywhere can join and play.
6. Does Run Keeper count to track runs?
RunBet: Yes, RunKeeper and Strava will both work. 
7. I tried logging in using Facebook and got an error message… help?
RunBet: Please refer any person having problems with logging in to [email protected].  Our staff will be able to assist them, reset passwords, or do anything else they need to get logged in.
Link to join:
https://runbet.me/runeatrepeat
Hyland's Boston Marathon Team Applications Open Now
And another Big Announcement…
I'm going to be the host of a video series by Hyland's following the journey of their runners to the Boston Marathon finish line!!
They're recruiting right now for Healers… doctors, nurses, therapists, physical therapists, etc.
Watch the first video announcing the team here – Hyland's Powered Boston Marathon FB
Apply at >>>  Hylands.com/Boston
I ran the Lexus Lace Up Ventura Half Marathon last weekend! I woke up at 3:30am to drag myself from south Orange County to Ventura. But it was a fun, fast course! And there were waffles.
Race Recap coming soon.
Lexus Lace Up Palos Verdes is next!
Use discount code RER10 to save!
Check the Race Discounts Page for more.
I'm finally going to move. That's all I know.
But I've been getting a lot of questions about it on Instagram.
Follow @RunEatRepeat as I figure it out…
Got a question for me?
Email – [email protected] or leave it in the question box on instagram!
Make sure you're subscribed to the show so you don't miss an episode! And tell someone about it!
Tag @RunEatRepeat on instagram and let me know what you're doing while you listen!
Have a great run!