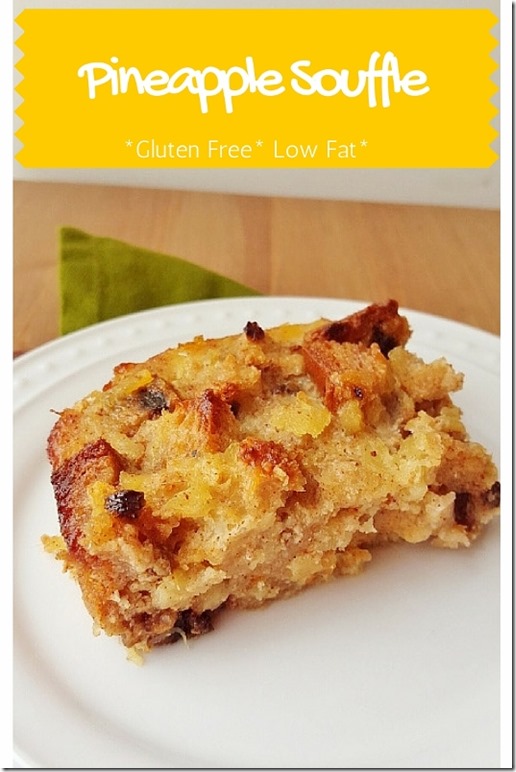 I made a healthy version of the Pineapple Soufflé I mentioned the other day. I don't have the ability to follow recipe directions (unless it's Blue Apron because they have all the ingredients right there for me) so I changed it up to make it lighter, less fat and try another bread.
Plus I wanted to make it gluten free and lower calorie since I knew there would be plenty of other treats around! (I was right, I got a solid dark chocolate bunny from my mom. It's amazing.)
Healthy swaps are optional, but these are the substitutions I used:
white bread ->> gluten free cinnamon raisin bread
half & half ->> fat free greek yogurt
butter   ->> happy thoughts (and denial)
This bread is delicious. I enjoyed a few slices for breakfast (and lunch and snack and dinner).
Healthy Pineapple Soufflé Recipe
Ingredients:
20oz. can crushed pineapple, drained
1/2 cup greek yogurt (plain, vanilla or pineapple flavor)
4 eggs, beaten
1/2 cup sugar
dash: salt, cinnamon and nutmeg
7 -8 slices gf cinnamon raisin bread, cubed
Directions: Heat oven to 350 degrees.
Mix together all ingredient except bread.
Add bread, mix. Pour into greased 8×8 baking pan. Bake for 45-60 minutes until set.
Optional: Serve with powdered sugar on top.
My family loved this! No one suspected it was made with gluten free bread or lacking butter or anything. Boom. Healthy recipe success.
Question: What other fruit should I make it with next time?
I'm thinking banana.