Hello from Washington DC!
Yesterday I made it to the hotel with plenty of time to grab some food before the party started…
Yes. I went all the way to DC for chain Mexican food. #DontJudge
And have a few beverages with my Sole Runner friends, including my #4 favorite person, Leann.
And this guy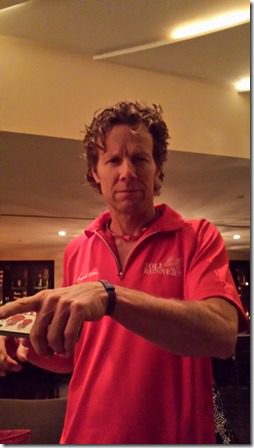 This morning the sun woke me up way too early and I headed to the expo. I heard it was going to be crowded and that was accurate. There were long lines to get your bib and another long line for the expo.
I made the obligatory trip to the watermelon booth to say hello…
But that's not where the watermelon party was happening. Luckily, I had the inside scoop that Watermelon o'plenty was going to be handed out after the Healthy Kids Fun Run.
Carb-loading like it's my job.
And I finally got to meet my long lost watermelon BFF Stephanie!
I just felt like walking alone for a while so I strolled along the Mt. Vernon trail. It was some nice lil quiet time.
I was on my feet without water way too much at this point so I headed back to the hotel around 3:30pm. <- I'll regret that tomorrow. #Foreshadowing
I bough a whole gallon of water and some bars and random things.
Then, it was time for dinner with my new Sole Runner friends.
Now I have to pack up and get ready for tomorrow.
I'm already tired.
That's kind of a bad sign…
Question: Have you had your watermelon today?