Marathon #7 for 2013 is done! I ran the Marine Corps Marathon today. Here's my recap and random pics…
Morning usual.
Since I am running NYC next weekend (and ran a full two weeks ago and the hat trick last weekend) I knew my only choice was to enjoy this race. I made a little bet with Hector – the person to take the best picture wins. We had a PR contest = Picture Record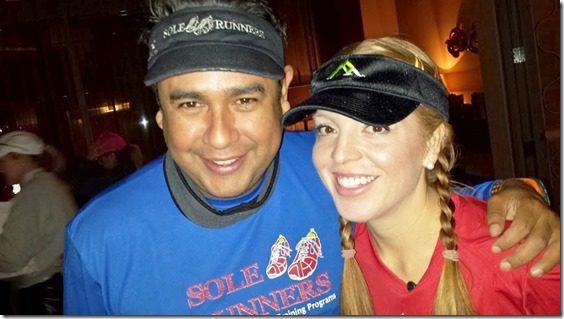 Getting trash bags ready to wear!
Russ and I are boy scouts though and came prepared with throw away gear. Apparently lime green is in for pre-race fashion this season… Be prepared!
Pre-race fun…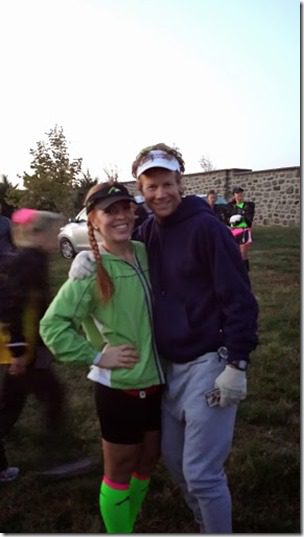 I met a lot of readers on the course today too! Thank you so much for saying 'Hi!'. You guys see my random running pose over and over but I never get to 'see' you! I really appreciate it. This is Katie
Before the start sky divers came down right by the starting line with the world's largest US Flag! I can't even describe how awesome that was…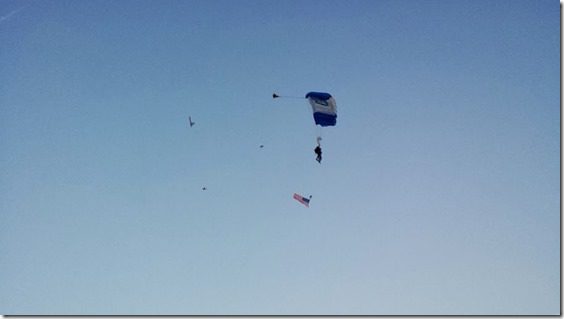 The race – The course was hillier than my research suggested! (By research I mean asking two people 'is this a hilly course?')
But it is the BEST course in the United States thanks to all the armed service men and women, landmarks, history and crowd support!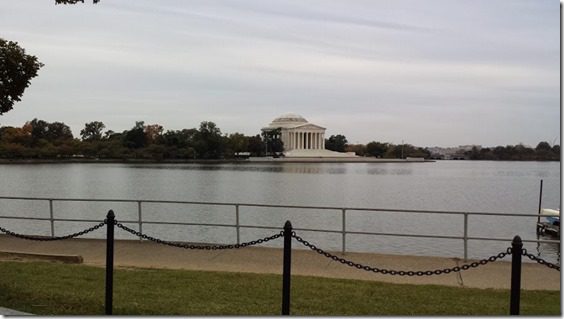 I think after mile 3 it's flat for a long time and you are really distracted by all the sights and sounds. The one tiny negative about this race is – because it's so big (30,000 runners?) it is very crowded at the beginning. That's usual for big races, but this one didn't thin out until mile 19! I think it would be hard to go for time here until you lined up right in the front.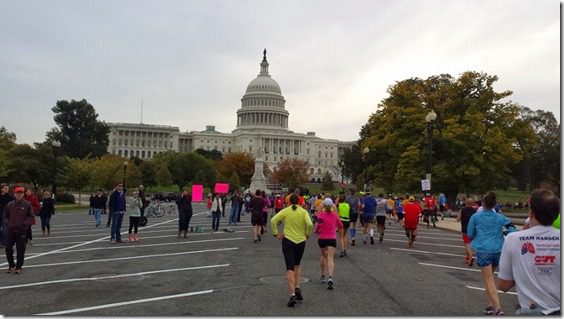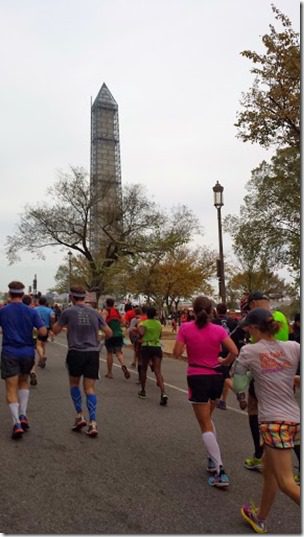 (I took some video, but need to see how it came out. Stay tuned.)
The last 6 miles get a bit boring until you get to Arlington National Cemetery. Then, as you get close to the end the crowds are LOUD and AWESOME.
When you cross the finish there are lines and lines of service men and women waiting to shake your hand. And they present you with the medal and salute you. It's awesome.
I finished in 3:56:27 and it was no walk in the park.
Everything about the Marine Corps Marathon was super organized. This includes the post-race food lines. They gave you a bag, water, and then a super cute box with your food.
The most genius part of the post-race offerings are the light jackets they give out instead of space blankets. LOVE. Those foily blankets are so hard to keep on your shoulders while you're trying to take a sip of water (or do anything else). These Mission Accomplished jackets are my new favorite thing.
Even though I was exhausted, I somehow managed to rush over to the FREE Fresh Watermelon booth to eat all the watermelon. I made a good dent. #EatMoreWatermelon but not more than me.
Overall thoughts: Loved everything about the Marine Corps Marathon. EVERYONE was so gracious. The service members kept saying "thanks for coming out" and other positive things. I thought, they are the ones defending our country, I should be thanking them!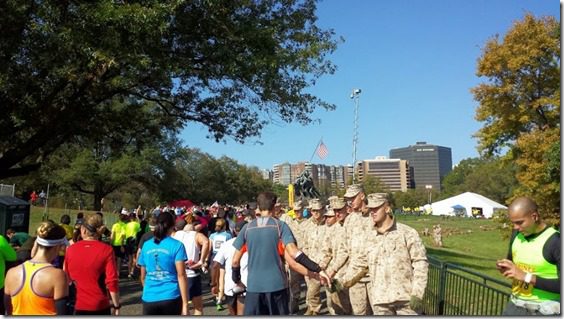 But really, it was the best. I had a hard race physically, but that is nothing compared to all the people who have died and been injured serving our country. God Bless them.
Here is a recap of the marathon from Tai Fung 
Question: Do you know any vets?
Thank them for me.