Last night Ben and I headed to Downtown Disney to meet up with my fam.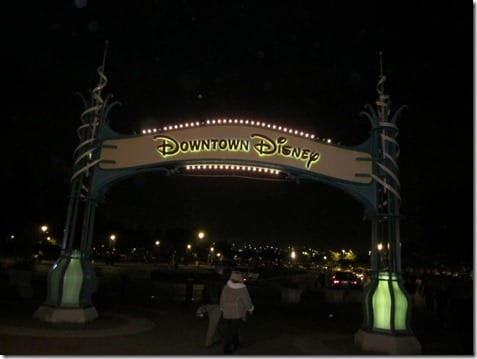 It was Matt's birthday and he chose to have his birthday dinner at Rainforest café (I think it's the 4th year in a row now!).
Unfortunately, that place was PACKED and there was a problem with getting seated that resulted in a longer wait than was quoted. We messed around in the store for a long time waiting and waiting and waiting.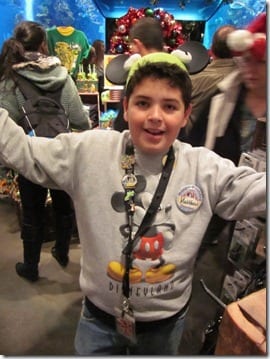 Fortunately, the manager realized the error and sent two HUGE appetizer plates for us to share when we finally got a table! The service completely made up for the error
Apparently we can be bought with mozzarella sticks – any takers?
Ben and I sat across from the birthday boy and his friend. It made for some less than stellar pictures, but fun conversation.Eleven year olds have a lot of opinions on black holes, aliens and airplanes! I learned a lot!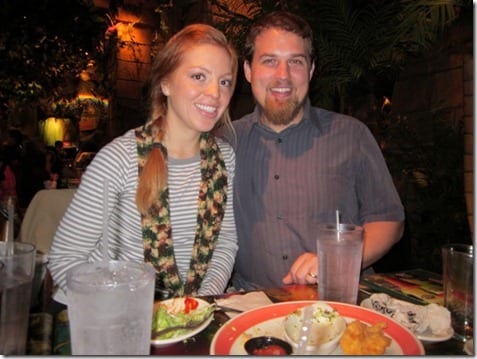 Michael and Heather joined in the fun
My brother's 'stache isn't this creeptastic in person. Swear.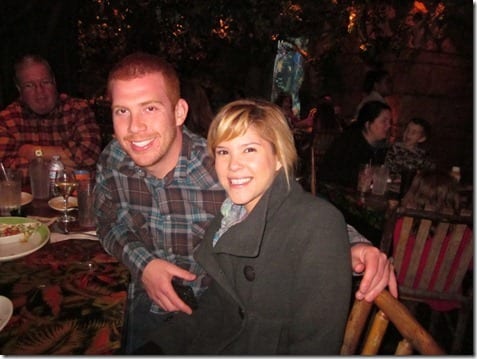 Ben wanted in on the creeper pic too I guess…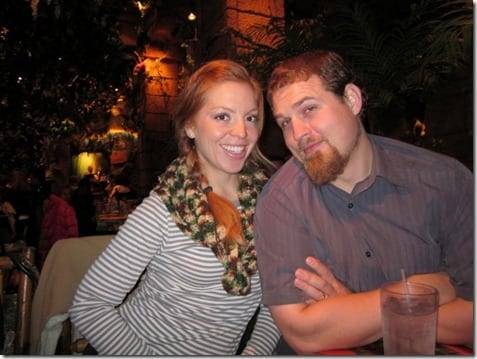 I ordered the macadamia nut crusted tilapia with coconut shrimp. I'm not a big fan of shrimp so I shared those with Ben. But the tilapia was AMAZING.
I also jacked some of Ben's fajitas. They were adequate, but we didn't expect much considering the place.
When someone orders a Volcano cake the waiters bring it out screaming, "VOLCANOOOOOO!!!!" The entire time we were eating Matt stopped what he was doing hoping it was his volcano when it came out of the kitchen. Who am I kidding? So did I.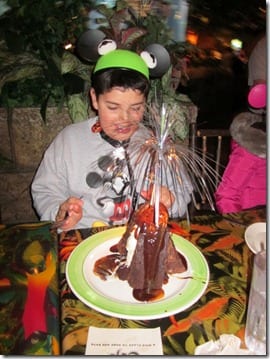 Finally his birthday volcano arrived!  I ate it. Not all of it, but I put a BIG dent. Trust. Everyone else (besides me and Matt) was too full from their dinner to help us attack it. Party poopers. More for me.
I got home way past my bed time and had to force myself out of bed for boot camp. I headed home for French Toast after
I recently announced it will be my life's work to find the world's best Chocolate Chip Cookie! Well, Mason Jar Cookie Company recently let me try and make my own. You can go to their website and create the cookie combinations of your dreams!
This is what my dreams are made of…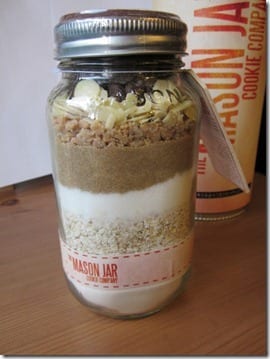 My mix has an oatmeal cookie base, toffee bits, almonds and dark chocolate chips. I named it "ChOatmeal Toffee Cookies".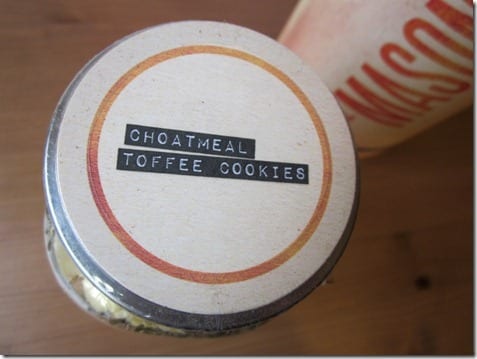 Um, I am super excited about this! If you want to make your own combination to bake and send to me you can use the code TENOFF to get 10% off your order.
The Mason Jar Cookie company is letting one lucky RER reader make their own combo for free! To enter: Leave a comment with your favorite cookie.
Contest open to US residents only. Ends TODAY at 6pm PST. I will announce the winner tonight.