Hello! How are you? I'm good. I'm also very carb-loaded. Most of those carbs came in the form of fresh (but very flat) chocolate chip cookies. Let me explain why these cookies look a little um, …different?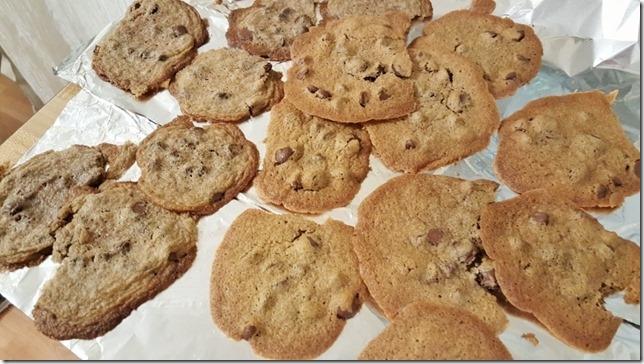 Ben's mom makes an impressive chocolate chip cookie. He loves them so much she's baked a batch or two and mailed them to him several times in the past. Since he's in California and homesick this week he was going to ask her to bake him a batch of cookies. But then we got the idea to bake cookies and send them to her. Ha! She is definitely going to think the world turned upside down!
She just uses the recipe on the back of the chocolate chips bag. But, there is something a little different about her cookies. I think it's because she melts the butter instead of just using softened butter. Ben disagrees and says there is something else super top secret she does when baking cookies that make hers unique. (I am sticking by my theory though as I've seen her do it that way.)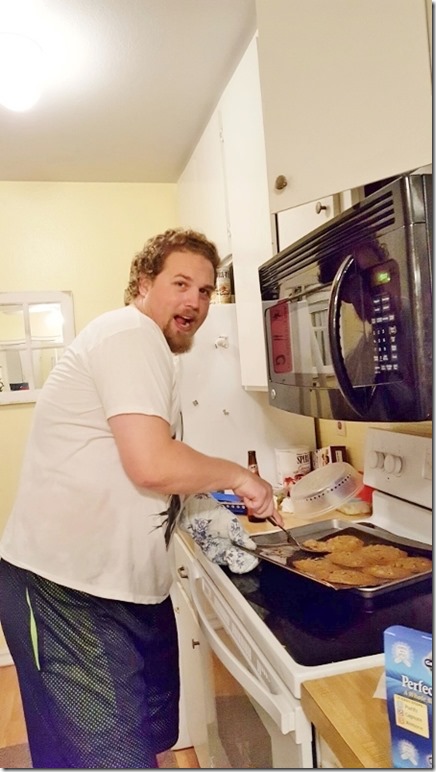 My job was to tell him where everything was (like vanilla extract) and take pictures. He was on a mission to do it solo and try to recreate her 'recipe'.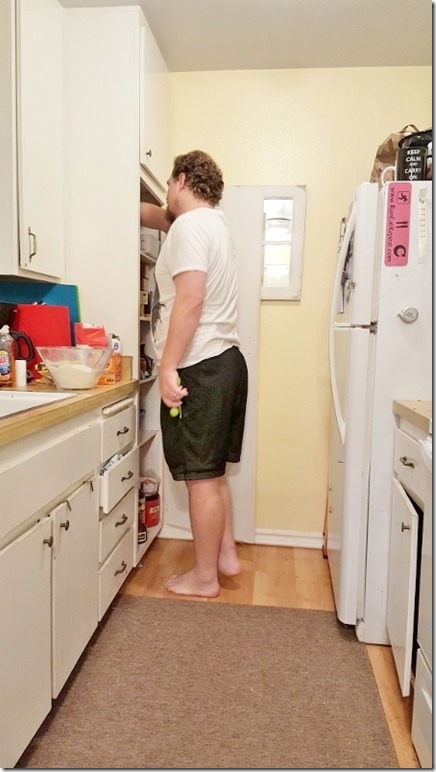 The cookies are delicious, but came out pretty flat. That's how he likes them though! He loves a very crunchy chocolate chip cookie and that's how they are when they cool.
I suspect (read as: saw him do this and chimed in but was overruled since they were his creation) that he used an extra stick of butter. He thought the sticks in the package were half sticks for some reason because he remembers them bigger? I think that's because he was smaller the last time he handled butter. Maybe he hasn't baked since he was 9 years old! I don't know…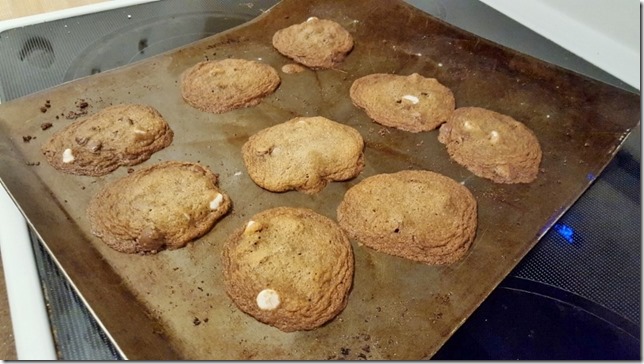 The cookies came out flat, but delicious.
I usually like thick, chewy cookies but there is nothing better than a fresh out of the oven, still warm chocolate chip cookie. Nothing. It's science. We ate all the broken pieces – which were a lot since they were very big so the ends kept breaking off. It was the best.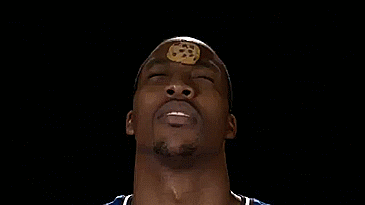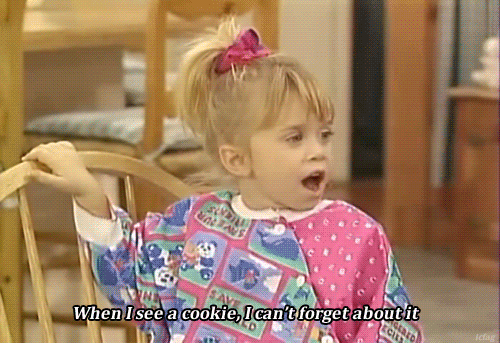 Then, I told him to hide them from me because we were going to eat them all before he mailed them. It was a really big batch though so I could probably have a few more for breakfast today…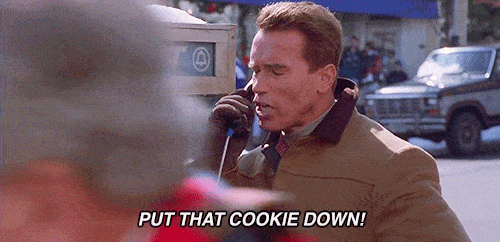 In other food news, we went to sushi for dinner and ordered an extra miso soup. Is that weird? I just really wanted more, I was tempted to order another one even! I'm sure my sodium levels are crazy now. Oh well.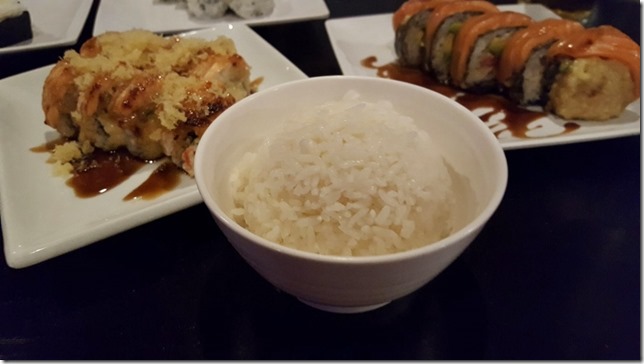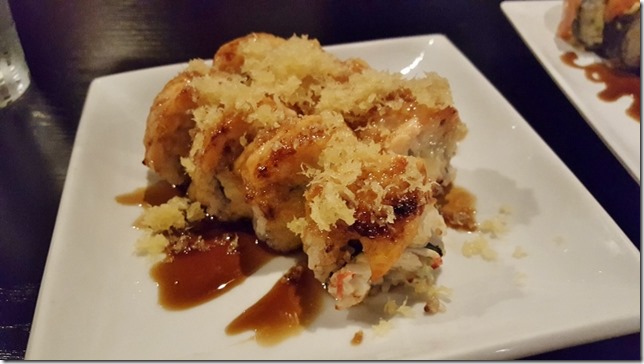 Then we got fro-you because it's kind of a tradition.
A 'tradition' in that I get fro-yo all the time? Does that count??
30 Day Yoga Challenge Check In
Today is day 3 of the 30 day  yoga challenge and so far it's great!
The first day I did that Youtube video I mentioned in the first yoga post. Then, I got a few suggestions to try Yoga With Adrienne.
Yes. Thank you to everyone who suggested that. I did day 1 yesterday and day 2 today. It is perfect!
Yoga with Adrienne actually has a 30 day challenge with a video for each day. So far the sessions look short and completely do-able for someone that's not an expert but also wants to be challenged.
If you want to join in the challenge now check out her YouTube 30 Days of Yoga.
Now I'm off to Run Eat Yoga Repeat. Maybe not in that order…
P.S. – Enter the LaceUp Race Giveaway! You can run a 5k, 10k or Half Marathon and choose from 1 of 4 different races around Southern California!!
Question: Do you like cookies crisp or chewy?
I like a very thick, chewy cookie. But if something is fresh out of the oven I'll take it no questions asked!