I got 8+ hours of sleep last night, but was still tired all day
I'm hoping it's just because of "girl stuff" and not because I'm getting sick. I have big plans for this weekend (like, a little thing called a half marathon!) so I cannot get sick. All I know is I desperately wanted to fall asleep ALL DAY. I made myself drink coffee around noon and it did nothing to help. Then, I took a sublingual B-12. Still felt like nodding off. Boo.
My charge-me-up lunch was a massive salad and multigrain Pringles. I almost always use hummustard dressing with veggie burger salads and TJ's peanut dressing with chickpea salads.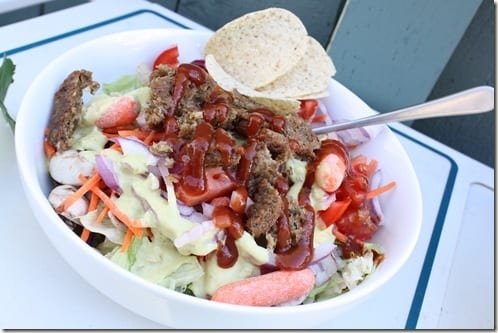 I wanted something sweet on the side and broke out this Pure bar as dessert. It's not a brownie. I know they wrote "brownie" on the wrapper two times, but it's NOT a brownie. For $2.00 if you say the B word you better deliver. Just sayin.
Mid-afternoon I had the world's best yogurt a.k.a Chobani Pineapple and an apple. It was so exciting I forgot to take a picture.
I love grainy, chewy foods – give me chewy granola, granola bars and thick chewy cookies any day! (No seriously, give them to me.)
So, I think that's why I like chewy tempeh over soft, squishy tofu. Even when you make tofu perfectly it's not as fun to eat.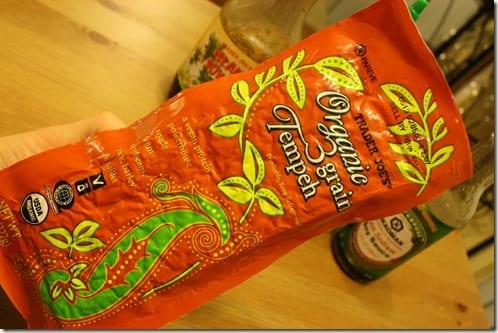 Tonight's dinner had a bunch of my favorite things! First tempeh and now Peanut Sauce with Noodles!
I mixed all these things up with some maple syrup (which I forgot to include in the pic) and mixed with a dash of water to thin it out.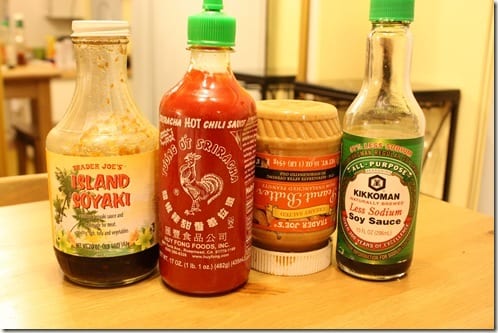 I boiled up some whole wheat noodles and right before they were done added some shredded carrots to soften. Once cooked, I added the tempeh (it's already cooked and just needs to be warmed), green onions and PB sauce.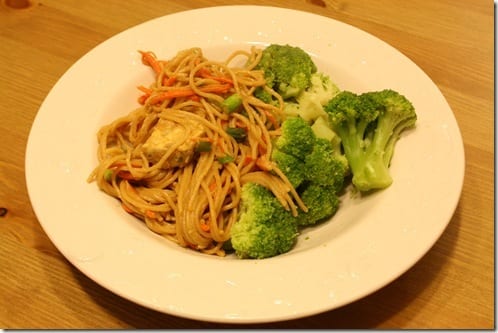 This dish is one of Ben's fave's too! Love that we share a common love of an amazing vegetarian dish.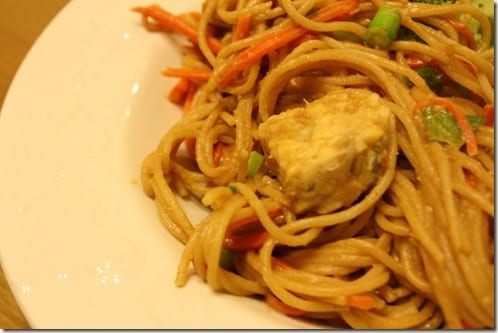 I may or may not have eaten all the dark chocolate from around the gross See's Candy. Does anyone else do that? I'm really good at it! (Add that to things I shouldn't be proud of, but am.)