Hello! How are ya? I've had a kinda crazy week. And I'm suddenly all into Girls – the TV show that I think came out forever-ago but I heard about it's the last season and got curious and now am watching all of it. Anyway. It's not like SATC or Friends or some other happy, fluff show. It's kinda serious and sad sometimes. Do you agree? Kind of a downer?
My point is – we need to play a game! And some of us (read: your Monican) need a drink. So we're going to play a game…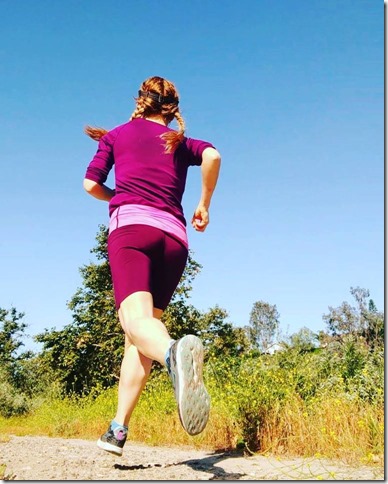 This is Never Have I Ever – Runner's Edition.
How to play: Pretend I'm saying "Never have I ever lost a toenail…" (or whatever's on the list).
If you have done it – you get 1 point.
If you have not done it  – you get 0 points.
The person with the most points wins! The person with the least points has to bring me a warm donut.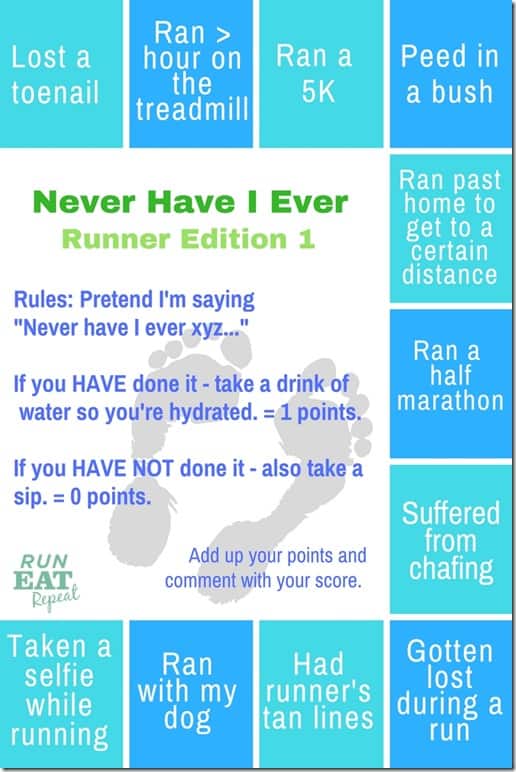 Never Have I Ever – Runner's Edition
Lost a toenail
Gotten lost on a run
Ran > 1 hour on the treadmill
Peed in a bush
Ran a 5k
Ran a 10k
Ran a half marathon
Ran a marathon
Suffered the pain of chafing
Gotten Sunblock in my eyes
Fallen during a run
Gotten top 3 in a race
Been stopped and asked for directions
Cried during a run
Stopped to buy water/fuel
Realized 'that smell' is me
Gotten a runner's tan
Skipped other plans to run
Went on vacation for a race
Had blisters on both feet
Ran a race as practice
Chatted with a stranger during a race
Chatted with a stranger on a run
Wrote my goal or pace on your hand / body
Ran with my dog
Ran in the rain
Ran in the snow
Ran in 100 degrees or more
Talked a friend into running a race
Got talked into running a race
Bought race photos
Race with a pace group
Ran a race out of state
Taken a selfie while running
Ran a race out of the country
Seen wildlife on a run
Dressed in costume for a race
Had an injury
Ran with a running buddy
Thought about my dream race (what is it?)
Okay. Normally running is about you against you. But today we're keeping score! What is your score?
Question: What is your score?