I got an email from runDisney announcing their new race yesterday. They've  been leaving clues on their Facebook page to get people to guess what it was. The clues were impossible, but I just knew it was another DisneyLAND race because there is only 1 right now and it sells out super fast.
Yep, I was right! Disney announced the first Tinkerbell Half Marathon to be held in Anaheim, CA on Jan. 29, 2012!!!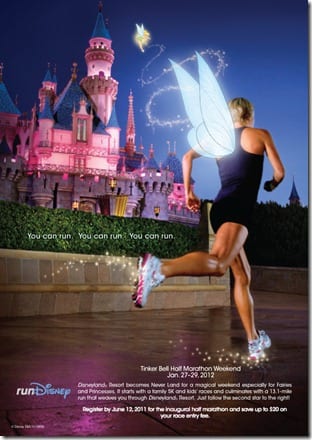 I'm in. The price is ridiculous – $120, and that's "early bird special". Ouch. But,  I love Disney and it's right in my backyard so I don't want to miss it.
The only bad thing (in addition to the fact that I won't have money to buy groceries for a while), is that I have to wait until January to run at Disneyland
I'm already super excited!!!
I wore my Walt Disneyworld Marathon shirt for my 6 miler this morning. I was brutally slower than ever and think running with my 10k group (who does 11 minute miles because their beginners) is getting my body used to running slower. I'm working in some tempo runs asap!!! I cannot afford to get slower.
It's Waffle Wednesday!
I topped up my 2 Kashi waffles with Cinnamon Raisin PB and syrup. Plus, a side of egg whites. So good.
Served up with iced coffee of course. (We don't have any milk in the house so it's black coffee today.)
Even though I blogged while I was in Vegas, I didn't do much else. I have a ton of emails to catch up on and 2 huge writing projects that I have to do too.
Question: Who's your favorite Disney princess?
I'm all about Ariel, but I was Cinderella for Halloween so I love her too.
(source)