Speaking of Leaving Las Vegas – have you seen that movie? Ben and I caught it recently. Talk about downer.
We reluctantly  left Las Vegas this morning. I snuck out of bed a bit early to crank out 3 miles on the treadmill. My ankle has been super super tight lately. Thoughts??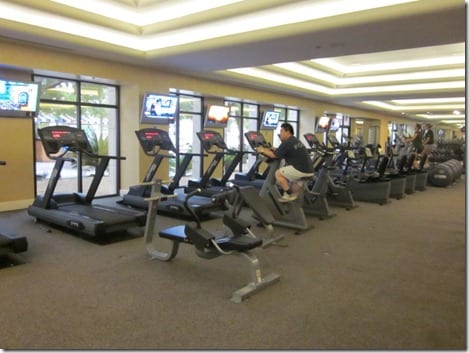 We stayed at the Luxor because it's the cheapest place on the strip that's not in BFE.
I'm bummed we didn't get to hit up the pool while we were here. Guess we have to come back and do that! Darn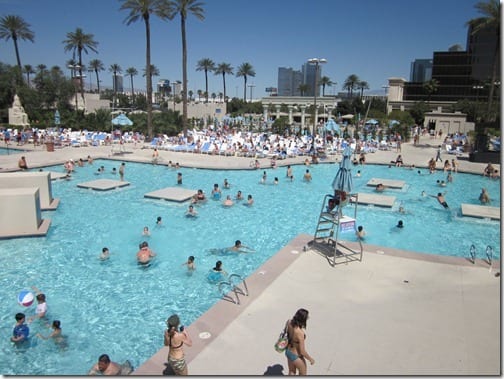 We gathered up our stuff and headed to Starbucks for a quick breakfast.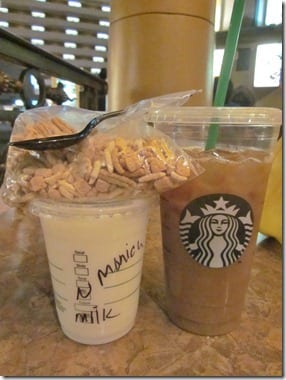 My #1 travel tip for saving money and keeping it a bit healthier is to bring baggies of cereal. Order a small milk from Starbucks and you've got breakfast.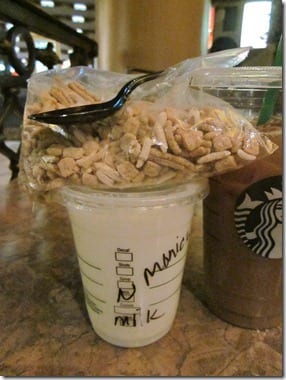 I added a handful of nuts for staying power too!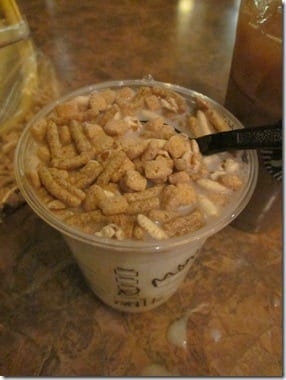 Breakfast is my favorite meal, so I don't do this every morning, but try to at least skip eating out once or twice when out of town.
Then, we headed back to California. Weirdly enough we both wanted to drive, but Ben took the first shift.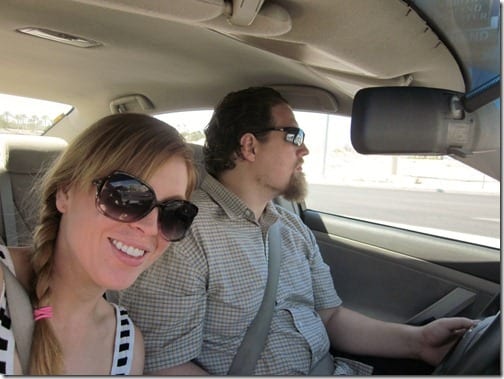 In "normal life" – if I'm not running, I'm eating. Well, if I'm not driving, I'm eating. (Notice a pattern?) My mom got me these veggie chips at a farmer's market. They're still fried/salted and thus not healthy, but they are 100x better than potato chips, super thick and flavorful. Love.
Normally the drive home from Las Vegas has horrible traffic. But, since we are driving on a Tuesday, it's been a smooth ride so far.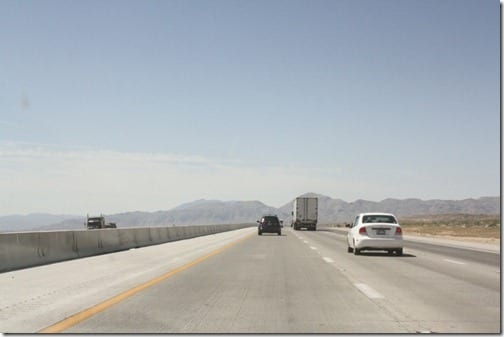 Took us less than 45 minutes to get back to California <3
Our lunch pit stop was Panera <3 I got the Strawberry Poppyseed salad with the whole grain baguette. Amazing all 'round.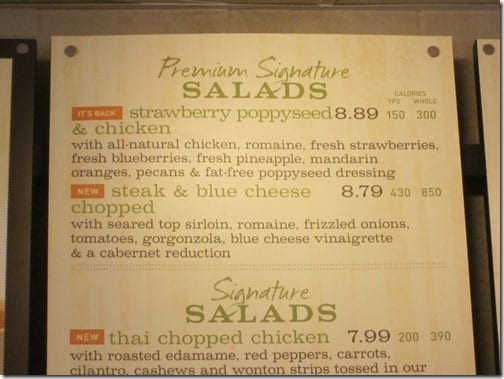 It's amazing, and I think it has more than 300 calories because it's so jam packed with fruit, pecans and chicken. I'm going to be back soon for another – hey it's seasonal! Get it while it's hot cold!
I also stole a bite of Ben's black bean soup. This is my fave.
Now I'm home, but headed straight out to my running group! I hope they can't smell the alcohol on my breath. See ya later