I don't know how I am keeping my eyes open right now! Suddenly out of nowhere my long day caught up with me and I am exhausted.
I am currently typing from 10,000 feet in the air on my way to the John Wayne airport. Usually I've been flying into LAX or Long Beach, so let's hope my mom remembers where to pick me up!
I packed a light dinner for the flight in case I couldn't find anything to eat at the airport, but Pot Belly caught my eye and I got a tuna sandwich for the first leg of my trip.  And I had a Biscoff for dessert 😉
I felt really guilty about eating that sandwich because I know it's high in calories/fat. Then, to make matters worse, the guy in front of me in line ordered a veggie sandwich – no cheese, dry and the guy next to me on the flight ate his packed food.
Usually when you're out and about in the world you are surrounded by people eating hamburgers and ice cream. Nope! I was next to a healthy vegan and it made me feel regretful of my "bad" choices.
Oh well, I ordered what I really wanted and I need to completely banish "bad" and "good" from food choices. I actually don't label food like this very often any more, but I had a day where I took a step backwards. It happens to the best of us I guess.
I had a short layover in Salt Lake City and once on my second flight brought out more food. I felt genuinely hungry, but I ran out of water on the first 4+ hour flight and am very tired – so I can't be sure.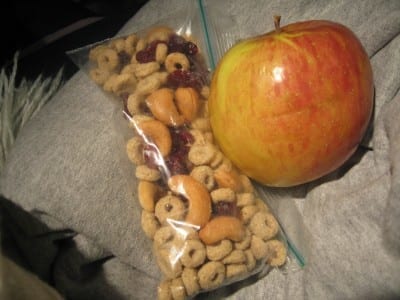 I had an apple, trail mix and ate half my PB&J on a sandwich thin (no pic).
All I know is, I better stay on track with my diet – they gave me the seat with a seat belt extender! What are you trying to say?
I think I'm just really tired and am going to take a snooze until I get to California.
P.S. I normally love meeting new people, but I'm super happy that I'm sitting by myself and don't have to make small talk. I feel like I wouldn't make any sense…
See you all later!