Yep, it's getting cold in Southern California! As soon as I stepped out of our bedroom I felt a chill (we have a room heater in there) and checked the weather outside. Brrrr!
But, I know these temps are very mild compared to many other parts of the county. I also realize that low 40s require some extra gear to run, but not thermals and a parka!
I've made the mistake of wearing too many layers in chilly weather and ended up super sweaty and peeling them off one mile from my house. It's important to check the weather and figure out how many miles you're running before you just throw on gear and go
I've already decided it's long sleeve weather and this morning I busted out two more piece of my colder weather running gear – gloves and ear covers.
Freezing hands are a big distraction and pain when you're running. I got these at Sports Chalet a while back. The ear covers are from Old Navy (years old though).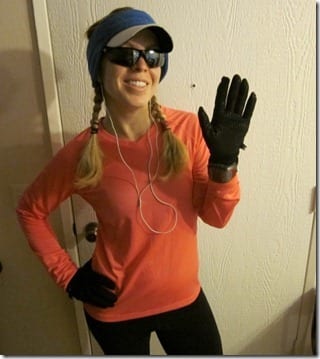 I have a few half marathons scheduled for next month, plus I'm toying with one more full. So, I need to get back on training! I did 5 miles with a few tempo miles thrown in.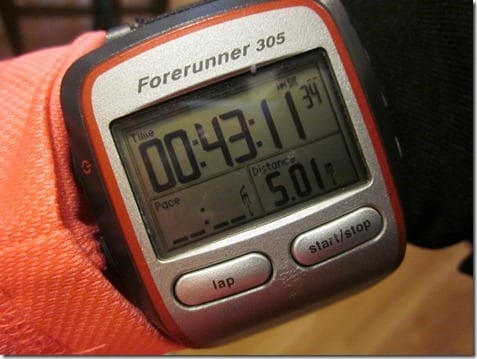 Post-run breakfast – bagel with PB&PB and yogurt with granola. I had the biggest granola craving yesterday and made a special trip for it.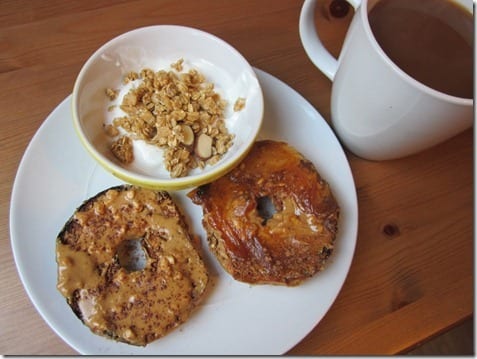 In Maryland I had to put on more layers in the winter and got good at cold weather running. You can read my Cold Weather Running post here.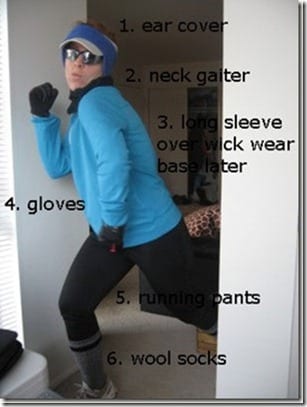 Question: Would you rather go outside to walk or run in 100 degree or 30 degree weather?
I'd pick 100 all the way (without humidity it's not that bad)!