The third challenge for the Project Food Blog contest is to host a luxurious dinner party for at least four people (yourself included). In addition, you are to share your party hosting tips/secrets with readers.
Well, I brainstormed a lot of new tastes and flavors I wanted to impress my dinner guests with. I made a list of "fancy" recipes and dishes I wanted to research for my dinner party.
Then, I realized two things:
1. This challenge is due on Sunday and I really only have 24 hours to plan, shop, prepare, cook and host. I am super crazy busy right now and didn't have a chance to even review the challenge before the last round winners were announced!
2. I am not fancy.
Don't get me wrong, I want to be fancy. Especially when I hear Drake ask if I am…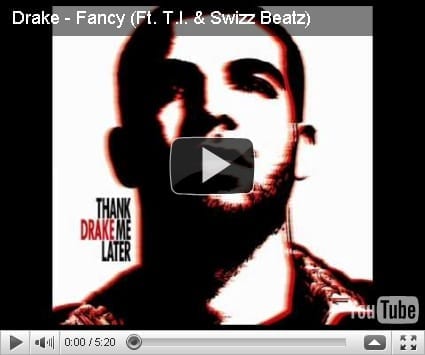 But, I refuse to pretend to be anything but myself on Run, Eat, Repeat. I am fully open and honest with my flaws (probably a little too much, but I digress).
If I am being real – this is how I do dinner parties.
You can take the girl out of Pico Rivera, but you can't take the Pico Rivera out of the girl…
For my dinner party menu I started at my local market. Their carneceria has the best carne asada around. They don't have "Specials" here they have "Especials"
You know it's authentic when the Spanish names are first and English is second. And when you take a number at the carneceria they call them out in Spanish.
Sure, we all learned 1 through 10 in Spanish from Sesame Street, but you better know "67" or no carne for you!
They also have a bull's head up in the store. I'm not sure how I feel about that, but I'm just here to get some comida and be on my way.
I kept yelling "Toro!" When I passed by the bull and getting weird looks. They should just be happy I didn't bust out my red cape.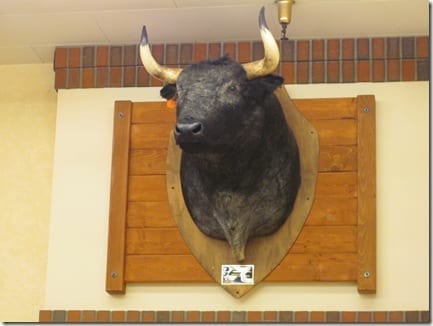 Even though trying fancy new dishes is fun, you really can't beat good, homemade Mexican food. I stuck with the basics –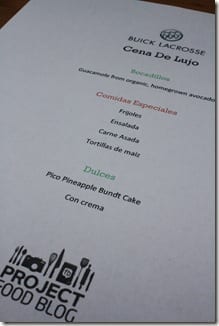 My mom has two avocado trees in her backyard and I went in search of some fresh, organic ones for guacamole.
They're organic because we don't spray them with pesticides and we overcharge middle / upper-class Americans for the privilege of not eating poison. Well, we would if we sold them.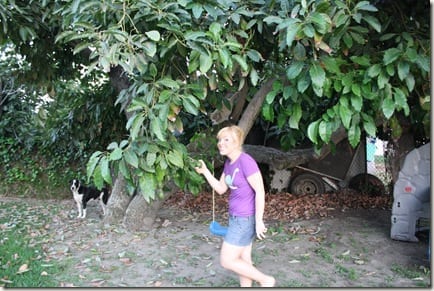 My cat was climbing around the tree trying to help. Or catch birds – I'm not sure, but he's got to eat too so I'm not judging.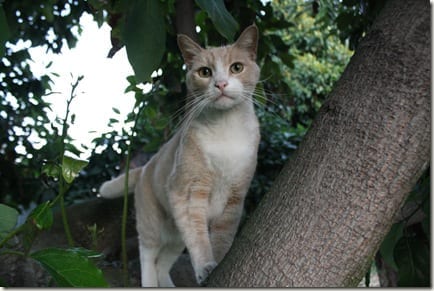 I pride myself on making some of the best guacamole this side of the border.
In the mix: avocados, squeeze of lime, salt, pepper, garlic powder, pico de gallo, cilantro.
Served with chips and beer
Irony = Me wearing my "Vegetarian" shirt while cooking carne asada.
  Life is complicated. Food and my shirts are not. Don't read too much into it.
  And what kind of luxurious dinner party would this be if I didn't offer a wine beer pairing to go with each course?
Fact: Coronas require limes.
The main course was carne asada, pinto beans, salad and corn tortillas. My family only makes pinto beans for some reason. Sure, we'll get black beans from a can, but pintos are cooked fresh 🙂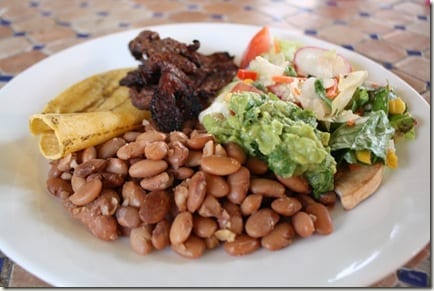 Random Fact: I used to be 99% vegetarian, but ate carne asada on Fourth of July most years. It was like my Thanksgiving or something. The smell was so amazing I wouldn't be able to resist. I wasn't all about it today though. Hmmm.
My Nino and Nina were two of my guests for this fiesta.
You can eat outside in SoCal basically year 'round. And there was maybe one or two flies that bothered us over the course of the night. Ben, (who is from Florida) always says – "There are no bugs in California and it never rains." I guess compared to FL that's true 🙂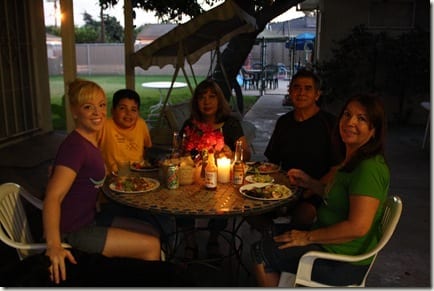 My dad showed up right after dinner. He was at a funeral and running late. Hi dad 🙂 
Since I wanted to make sure my personal touch was on this meal I made my signature Pico Pineapple Bundt Cake for dessert.
Served it with whipped cream and more beer.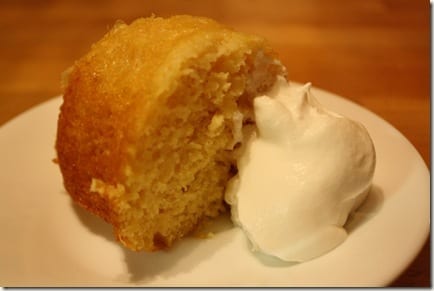 My Dinner Party Tips:
1. Trying new recipes with no cushion time in case it doesn't come out the way you want is not a good idea. If you have a limited amount of time, like I did – Do what you know and do it well.
So, I embraced my specialty, my hometown, my family and did a Mexican bar-b-que.
2. The real secret to a good dinner party is alcohol and lots of it 😉
3. "No stressing about impressing!" Dinner parties are supposed to be fun (for the host too!). The people you are inviting are friends or family – not food critics. Unless you invite food bloggers, who are kinda like critics, in which case you've got your work cut out for you. If you plan to host an outdoor party, you may need to rent luxury restroom trailers for your guests.
Hope you appreciated my real-but-not-necessarily-super-fancy-dinner party!