Podcast: Play in new window | Download
Subscribe: Apple Podcasts | Google Podcasts | Stitcher | RSS
Warm up: Right now… I ordered new shoes, which is exciting.
And… I got a Lexus delivered! WTF.?!!!? I'm working with Lexus Lace Up and I'm pretending to be fancy for the day. No one is fooled.
This is me pretending to be fancy in a fancy car:
And now let's chat with Erin…
The Big RedHead Book – podcast chat with the author
Today I'm chatting with Erin La Rosa, the author of The Big Redhead Book.
The Big Redhead Book: Inside the Secret Society of Red Hair is an inside look into one of the most elite societies in the world — the real two percent. Well, you know, the two percent of the world's population that are natural redheads, at least. This book has equal parts pop culture, ginger facts, and humorous stories about what it's like to actually have red hair. It's loaded with everything you'd ever want to know about us reds; how we're scientifically different from the norms (non-redheads), how we've been stereotyped in pop culture, and the do's and don'ts of having a red in your life, among other things!
Some surprising facts about redheads that you will discover include:
– The association between redheads and humor came from redheaded slaves in ancient Greece
– There are over 30 leading or recurring redhead characters in Disney and Pixar films… that's a lot when you remember we're only two percent of the world's population!
– Redhead women allegedly have more sex, more threesomes, and more orgasms than other women… or do they? Let's find out!
– Some Egyptian rulers dyed their hair red to assert their power (looking at you, Cleopatra)
– And redheads need more anesthesia at the dentist, because they're not going down without a fight
Redhead Things We Talked About…
The LA Marathon – Erin wants to run it next year.
Growing up with red hair and all the sunblock that requires.
Weird stuff about red heads like… we feel heat and cold more than others. We smell different (but in a good way?).
Pubic hair, if people actually call us Fire Crotch and Do they really ask?!
Why there are more red heads on TV and in movies than in real life.
Things we recommend:
Super Goop – sunblock that smells nice! Super Goop Everyday SPF 50
Running Gear with SPF – Women's UVF Top // Women's UVF Top v neck
And of course Erin's book… The Big Red Head Book
You can follow Erin at A Side of Ginger on IG or Twitter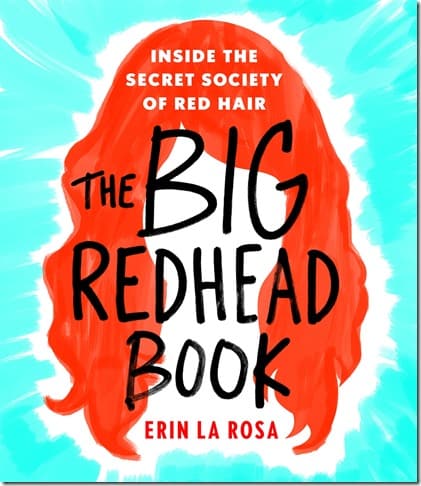 Podcast Awards for this week:
1st place goes to….  All of you for listening to us talk about pubes. Please come back next week and I promise I'll keep your bathing suit area off the podcast.
2nd place… My new SPF top… it's the Brooks Long Distance top but I don't see confirmation that it has sun blocking capabilities (or UVF) now.
3rd place… Birthday Cake flavored gum from Target.
Thank you so much for listening to the RER Podcast! Please subscribe and please leave a review in your podcast app. It helps share the RER Podcast to others and rank it higher.
Have a question for me?
Leave a message on the Run Eat Repeat Podcast line at 562-888-1644 – I'll play it and answer your question on the next episode! Let me know your name and where you're from if you want too.
Question: Do you have a redhead in your life? (Pets don't count!)